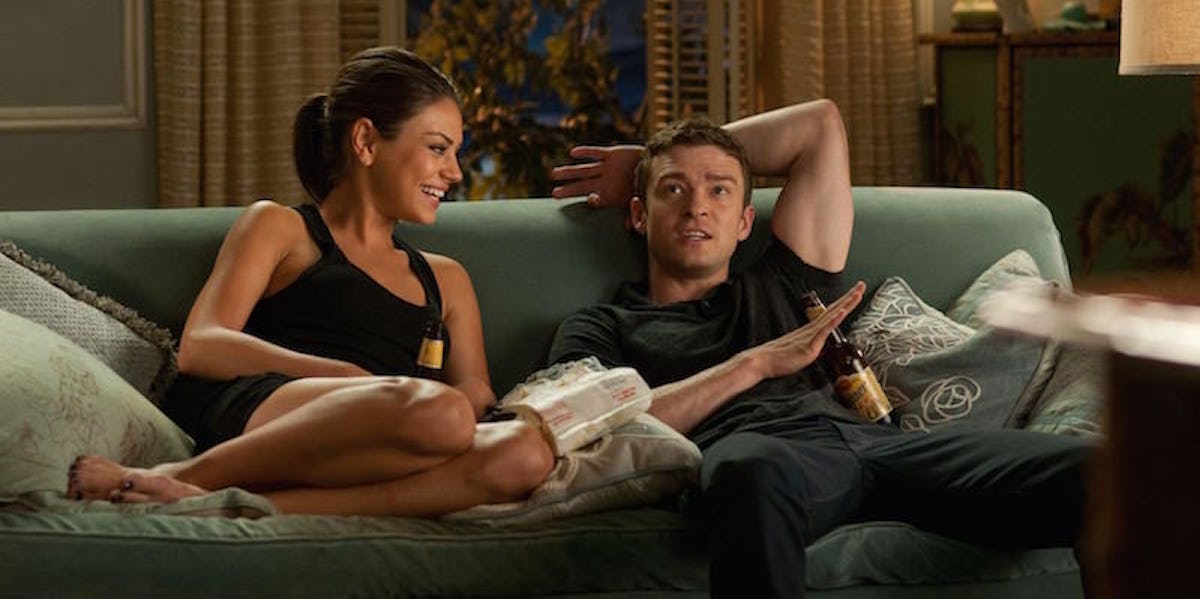 11 Movies To Set The Right Mood For Your Next Netflix And Chill Date
Screen Gems
We currently live in a world where "Netflix and chill" is a common phrase in our vocabulary, a code for getting it in and a way to get laid with minimal effort.
What a time to be alive, right?
Well, while we're here, we may as well embrace it.
I mean, we've all been there.
Wanna meet up tonight? Sure! Netflix and chill? Sure!
It's just an easy way to bangalang without having to say it. By the time you get bae in bed with you, cuddle up cozy and press play, you probably already have your pants off. It's routine at this point.
That's all great, but what movie do you put on during the first two seconds of your date?! Not that it matters, you won't be watching much of it anyway...
To help make things easier, and help make the transition from screen to sexy-time that much smoother, I've outlined 11 movies I believe are perfect for your next Netflix and chill date.
Now go grab some popcorn and a condom (or two). Let's get started.
1. "That Awkward Moment"
This movie is all about awkward interactions, one night stands and the complications of relationships. It's funny and easy to follow, which makes it even easier to bang between scenes. This movie is fun and flirty, and perfect to watch with someone who you may or may not have feelings for.
2. "Friends With Benefits"
This is the movie to watch with someone you're currently hooking up with but secretly want more from.
This movie is all about the attempt to keep relationships strictly sexual and casual, but the inevitability of deeper desires that come from sleeping together. What I'm trying to say is: If you want bae to put a ring on it, this is the movie for you.
3. "Don Jon"
This movie is legitimately about porn. If your Netflix and chill plans are supposed to be five percent "Netflix" and 95 percent "chill," then "Don Jon" is the movie to pick.
Two minutes into the film, you'll be eyeing your bae and taking your clothes off. Let's be real, any movie with Scarlett Johansson is guaranteed to set the mood.
4. "The Switch"
OK, this movie deals with a spermy switch-up that will put pregnancy on your mind and remind you and bae to practice safe sex.
Always remind your boo to wear that condom unless of course, you know, it's time to seal the deal.
5. "Disturbia"
Choosing a slightly scary (but also flirty) movie is the perfect excuse to cuddle up next to bae.
"Disturbia" is a fantastic choice because it's scary enough to make bae want to hold you, but also sexual enough to make you want to rip his clothes off. Just turn out the lights, grab a blanket and mack on.
6. "The Breakfast Club"
From personal experience, let me just tell you it's really easy to get side-tracked from this movie. It's a classic film, one I really suggest you watch and fully appreciate (on your own time) but it's also pretty slow, so your mind will most likely drift off to bigger and better places... like your man's pants.
Trust me, this is the film to see (I mean, have playing in the background).
7. "Clueless"
You can't go wrong with a chick flick, especially "Clueless." This fun and flirty rom-com is the perfect film to set the mood with your man. You'll both probably be laughing hysterically the whole time, which will make it an ~extra adorable~ evening.
It's also great to watch during daylight hours because Cher provides awesome commentary.
8. "The Dark Knight"
Wait, hear me out. This is a great choice because not only is it a phenomenal movie, but it also has a lot of loud action scenes that will definitely block out any love-making noises you don't want your roommates (or, um, parents) to hear.
It's a film that never gets old, so you've probably already seen it once or twice aka you won't have to really pay attention.
9. "Grease"
Wanna get super theatrical in the bedroom? Need an awesome playlist to get your groove on to? "Grease" is an awesome choice for any Netflix and chill night because you can still enjoy the songs and music while getting it in with your bae. "Grease lightening" will be your safe word.
10. "White Chicks"
I LOVE THIS MOVIE. That should be enough of a reason to watch it. OK, OK, but seriously this movie is hysterical, really easy to watch and super fun. It's also like, not a super big deal if you miss a scene because it's pretty predictable. It's also a classic so if you haven't seen it, um, IDK WTF you're doing. Netflix and chill time should be RN then.
PS: It's not that sexy of a film so if you have jealousy problems, you don't have to worry about bae checking out someone else's goodies. All eyes on you, girlfriend.
11. "Boogie Nights"
If you're super aggressive and haven't gotten laid in a REALLY long time, this is the movie for you.  I'm gonna leave it at that. BYE.