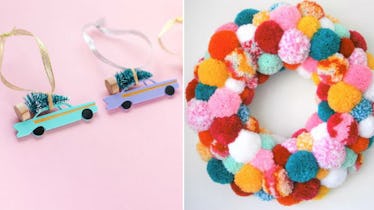 The Most Popular Holiday Decor Trends For 2018 Are Here & It's Time To Deck The Halls
Fall may have just begun, but it's never too early to start thinking about the holidays. Of course you plan to give Halloween its time in the spotlight, but you're also anxiously awaiting the most wonderful time of the year to arrive. You can't wait to decorate your apartment floor to ceiling in holiday cheer. From colorful Christmas tree ornaments to lavish wreaths, you know the one spot you can always count on for anything your heart desires is Etsy. You'll be happy to hear that the most popular holiday decor trends for 2018, according to Etsy's recent trend guide, are officially out, and it's time to start adding things to your shopping cart.
If you really love the holidays, as soon as Nov. 1 hits, you plan to deck the halls in red and green. A Christmas tree is mandatory, along with fairy lights and pretty ornaments. Though, for the most Instagram-worthy apartment, you'll want to combine a mix of the traditional must-haves along with some tops trends of this year that are a little outside the box. If you're looking to have a picture-perfect holiday home, you might want to consider any of these 2018 trends, according to Etsy. Happy decorating!