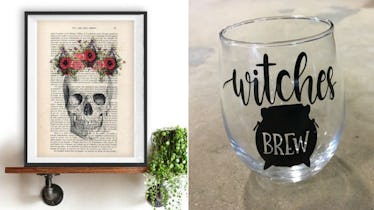 These Etsy Halloween Decorations Are All Under $10 & Won't Haunt Your Wallet
'Tis the season to haunt it, because Halloween's right around the corner. This is the time of year to truly embrace all things spooky and creep it real on the regular. Sure, Christmas comes with its colorful string lights, gingerbread houses, and ornaments, but you can get just as decorative in October to ring in Halloween. If you're looking to get in the festive spirit, but don't necessarily want to break the bank, you'll love this list of Etsy Halloween decorations under $10.
It's safe to say that I'm obsessed with Etsy. Pretty much everything your heart desires can be found with a simple search. So, if you're trying to save up as much money as possible this month for a killer Halloween costume, opt for any of these seven Etsy decorations to spice up your living room or desk at work. (This is also an especially great deal if you're looking to decorate your dorm room, but are a broke AF college student.)
These spooktacular items won't have you going over budget. No matter what you're giving a Halloween makeover to, now you know that the scariest thing will be what you put up, and not the sight when you look at your receipt.