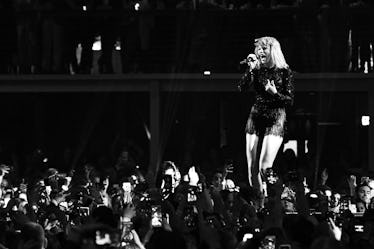 It Seems Like Taylor Swift's Squad Is Under Attack In "This Is Why We Can't Have Nice Things"
Mike Coppola/Getty Images Entertainment/Getty Images
It's here. Reputation. The long-teased, finally released sixth Taylor Swift studio album. And can we just say that we are feeling *angels singing* about every single track? But the stand-out for me is probably "This Is Why We Can't Have Nice Things" because the lyrics speak to me. Now, everyone is wondering what the meaning of "This Is Why We Can't Have Nice Things" is. But if you look at the lyrics, it's pretty apparent that this is a lament for Taylor's squad.
Poor Tay. These lyrics make it clear that her squad just isn't the same and, in fact, that someone once close to Swift betrayed the pop star.
At first, she sings over synth, doing her best Lorde impression,
It was so nice throwing big parties/ Jumping to the pool from the balcony/ Everyone swimming in a champagne sea/ And there are no rules when you show up here/ Bass beat rattling the chandelier/ Feeling so Gatsby for that whole year
Sounds like a send-up to a fun friendship. But then it becomes quite clear that the decadent fun Swift and this unnamed friend (or friends) shared was shallow. She sings in the chorus,
This is why we can't have nice things, honey/ Did you think I wouldn't hear all the things you said about me?
And in the second verse, she croons,
It was so nice being friends again/ There I was giving you a second chance/ But then you stabbed my back while shaking my hand/ And therein lies the issue/ Friends don't try to trick you/ Get you on the phone and mind-twist you/ And so I took an axe to a mended fence
Yeesh. Clearly someone in Tay's seemingly unbreakable squad did something way bad, and the Swift singing these lyrics is unapologetically ending the friendship.
No wonder there was no Fourth of July Taymerica bash this year.
Every song on the 15-track album offers something different, but "This Is Why We Can't Have Nice Things" is a clear screw you to a toxic friendship.
Since the album dropped, fans haven't been able to stop listening to her lyrics and trying to divine their meaning, especially track number 13.
Though, Swift's eff you to a former friend shouldn't be too much of a surprise, given 2014's "Bad Blood," a song supposedly about Katy Perry after the two singers had a falling out. Where "This Is Why We Can't Have Nice Things" is an eye-roll and a casual we're done, the lyrics in "Bad Blood" are much more vengeful:
Did you think we'd be fine?/ Still got scars in my back from your knives/ So don't think it's in the past/ These kind of wounds they last and they last [...] Cause baby, now we've got bad blood/ You know it used to be mad love/ So take a look what you've done
The video for "Bad Blood" also featured a Swift ready to fight — with the help of her squad, of course.
Oh, Tay.
But the 2014 former-friend-diss-track isn't the only Swiftian thing about this song.
"This Is Why We Can't Have Nice Things" also fits thematically other tracks on Reputation, like the revenge-epic-cum-historically-revisionist "Look What You Made Me Do," which kills and subsequently resurrects Swift as a revenge-seeking hardened woman.
Where that Swift is a little edgier, this Swift is just kind of laughing. But they're both over being hurt.
There's also "...Ready for It?" — the song whose video allegedly shades Kanye West. It's a love song, like many of Swift's tracks, but this one is a departure from the past. She sings,
Me, I was a robber first time that he saw me/ Stealing hearts and running off and never saying sorry/ But if I'm a thief, then he can join the heist
This is an unapologetic Swift, much like the one in "This Is Why We Can't Have Nice Things" — one who does damage and doesn't look back. She's still singing about her exes, but with more agency than the old Swift, who was always the victim of nefarious lovers.
And though this is a story of a different nature — a Swift barreling head-first into a relationship instead of breaking up with a friend — it has the same bold ethos. Swift is clearly done saying sorry or making room for other people's feelings.
And, of course, we're not the only ones who are obsessed with this song. Swifties everywhere have, per usual, interpreted the lyrics like true academes, looking for hidden meanings and double-entendres. And Swift delivered.
One Swiftie is convinced that this song is about Kimye (like the snake-filled "Look What You Made Me Do"), but knowing what we do about the slow dissolution of Swift's squad, and the fact that Swift and Kimye were never really friends, that doesn't add up.
Some people think that this song is also about Katy Perry, which has obviously led to two groups of obsessive stans battling it out:
It's clear that this is a new Swift, one who is over what people think of her. If you consider how Swift is portrayed in the press — boy-crazy, narcissistic, manipulative, even empty-headed at times — Reputation is taking Swift's, uh, reputation and turning it on its head. Swift is writing her own narrative, being boy-crazy and revenge-thirsty on her own terms.
And we are here for it. Check out "This Is Why We Can't Have Nice Things" on iTunes.