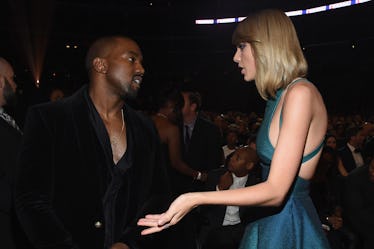 This Moment In Taylor Swift's "...Ready For It?" Video Could Be A Clapback At Kanye West's "Famous"
Larry Busacca/Getty Images Entertainment/Getty Images
Taylor Swift has finally dropped the video for "...Ready For It?" (Surprise, we are totally ready for it.) And it looks like the rumors are right: there's a pretty big sign that Taylor Swift's "...Ready For It?" video's about Kanye West. Specifically, I mean it's partly about the video for his song, "Famous," which included a naked wax likeness of Swift, and, of course, the infamous lyrics, "I feel like me and Taylor might still have sex. Why?/ I made that b*tch famous."
After the video dropped on Oct. 26, we used all of our internet sleuthing skills to figure out whether or not "...Ready For It?" is actually about West.
In the video, we see the naked, cyborg version of Swift in what looks like a clear box. As Swift sings, "Are you ready for it?" a red light flickers and we see the naked version of Swift with a snake sliding up her face.
It shouldn't be surprising that the pop star went out of her way to send a message: Swift is no stranger to shade, having largely based her career upon writing songs about ex-boyfriends. And in recent years, she has regularly made music videos referencing feuds, like "Bad Blood," which is rumored to be about Katy Perry and her supposed betrayal of Swift, and the more recent "Look What You Made Me Do," chock full of the snakes that anti-Swifties fill her social media accounts with.
And to be fair to Swift — or, as Katy Perry has allegedly called her, the "Regina George in sheep's clothing" — the dust-up between her, West, and West's wife, Kim Kardashian, has been a drawn-out saga full of snake emojis, carefully engineered press releases, secretly recorded videos, and competing egos.
West's song "Famous" — and the ensuing video — caused a bit of a dust-up, if you will. Swift and her fans took issue with the lyric, "I made that b*tch famous" and the naked likeness of Swift in West's video.
When the song was first released, Swift alleged to the press that she had cautioned West against a misogynistic message. West and wife Kardashian countered Swift, so she was all, "How could you do this to me?" and whatnot, so Kardashian brought the receipts — specifically a video recording of West OKing the lyrics with Swift.
Swift then back-pedaled and said she was specifically referring to the usage of the word "b*tch" but Kimye stans were already off to the shade races, calling Swift a snake and filling all of her social media accounts with snakes.
And we can totally see a little of that Kimye-Swift drama in the "...Ready For It?" video.
Twitter detectives took to the idea after Swift released a trailer for her music video — which is apparently a thing — teasing the cinematic, futuristic mini-movie. And they freakin' ran with it.
Specifically, in the 15-second clip, we see a nearly naked Swift in a cyborg-esque body suit, which a lot of people think is a reference to West's "Famous" video.
"Remember when Kanye had that 'naked' Taylor for famous?" one person tweeted. "She's turning it back with android naked Taylor for ‪#ReadyForItMusicVideo."
One Swift fan even said that her cyborg body is a reference to West's love anime.
And, yeah, it might seem crazy that Swift stans picked up on all that from a 15-second teaser, but they do their freaking homework, and the full video delivers. One fan account on Twitter took a look at Swift's likes on Tumblr — including a like of a post about the connection between her "...Ready For It?" nakedness and West's "Famous."
If you're one of those people who was all, "Chill, stans, let's wait for all the facts before jumping to conclusions," well you were wrong.
They had the receipts and we're all just catching up.