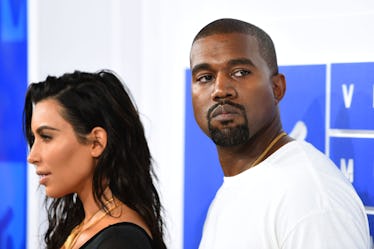 Kim Kardashian Revealed The Meaning Behind The 'Ye' Album Cover & It's Unexpected
Larry Busacca/Getty Images Entertainment/Getty Images
On Thursday night, May 31, Kanye West debuted a new album, Ye, complete with a unique visual. The image made it worth wondering what the meaning of the Ye album cover actually was. Kim Kardashian helped answer the question on Twitter, with an explanation that's simpler than one might expect.
"Kanye shot the album cover on his iPhone on the way to the album listening party," she tweeted. The album cover shows a photo of mountains, with words scribbled on the image: "I hate being bi-polar it's awesome."
According to TMZ, Kanye's album release party was held at a ranch 45 minutes outside of Jackson Hole, a popular vacation town in Wyoming. For months, the rap artist and producer had been stationed in the northern state, where he worked on producing both his album and the albums of other artists on his G.O.O.D. Music label.
Those artists include Kid Cudi and Pusha T, with the latter having already released his album, Daytona, which sparked a rap beef with Drake.
On Thursday, it was Kanye's turn to debut an album, together with a spur-of-the-moment cover. Previously, Kanye had given fans reason to think that the cover would feature a photo of a doctor who performed surgery on Donda West, Kanye's mother, before her death in 2007.
In a text conversation that Kanye West tweeted in April, the artist said, "This is my album cover. This is plastic surgeon Jan Adams. The person who performed my moms final surgery. Do you have any title ideas?"
Ultimately, Kanye opted for a different visual.
Kanye West not only mentioned bipolar disorder on his new album's cover, but also within its songs. In one line, he declares, "ain't no disability, I'm a superhero."
The album does not, however, directly mention President Donald Trump, despite Kanye having announced Ye's release date at a time when his comments about the president were making headline news.
In one tweet, the 40-year-old rapper said, "You don't have to agree with trump but the mob can't make me not love him. We are both dragon energy. He is my brother. I love everyone. I don't agree with everything anyone does. That's what makes us individuals. And we have the right to independent thought."
Despite not referencing Trump by name, Ye does mention Stormy Daniels, the adult film star that alleges she engaged in an affair with Trump in 2006.
Trump has denied her allegations.
Kanye also alluded to the reported relationship issues between his sister-in-law Khloe Kardashian and NBA player Tristan Thompson.
On the track "All Mine," Kanye raps: "All these thots on Christian Mingle, that's what almost got Tristan single, if you don't ball like him or Kobe, guarantee that bitch gon' leave you."
Ye's release party was reportedly attended by close friends and family — Scott Disick was at the event, for example — but Thompson was away playing in Game 1 of the NBA Finals on Thursday night.
Since stories about Thompson and Khloe began circulating, Kim Kardashian has refrained from commenting on the subject. "I kind of made this rule with my brother, if there's a baby involved, I'm gonna keep it cute and keep it classy, and not talk too bad," she told The Ellen Show in May. "I'm gonna try not to say anything too negative, because one day [Tristan and Khloe's daughter] True is going to see this, and you know, it's so messed up."
Kanye West? Not so much. With his new album, Kanye has used Tristan Thompson, a porn star's alleged affair with the president, and bipolar disorder as material for lyrics.
Oh, and for one impromptu album cover.