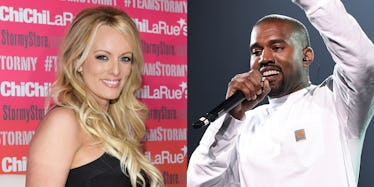 Kanye West Rapped About Stormy Daniels & You'll Wince At It
Tara Ziemba/Getty Images Entertainment/Getty Images / DIMITRIOS KAMBOURIS/GETTY IMAGES ENTERTAINMENT/GETTY IMAGES
On Friday, June 1, Kanye West dropped his newest album, Ye. Within just a handful of songs, Kanye managed to touch on a whole breadth of subjects — including the woman at the center of a presidential controversy. However, Kanye West's lyrics about Stormy Daniels is classic Kanye, ultimately, rather than something more explicitly political.
Indeed, judging by the initial responses on Twitter and in the media, Ye is being seen as a slight return to "the old Kanye," with sounds harking back more towards 2004's College Dropout than 2016's more experimental Life of Pablo.
The song where the Stormy Daniels reference appears, "All Mine," is sonically like a cross between those two landmark albums, with West's classic sly pop cultural references used for innuendos mixed with a relatively simple beat. And I'll warn you now, in case the fact that an adult film star is referenced didn't tip you off: these lyrics are dirty. Like dirty.
"All Mine" is all about sex and lust, to put it simply. It touches on a few high-profile cheating stories, digging into the celebrity rumor mill, which is how Daniels got swept into it. This is also that song that features West rapping about the rumors that Tristan Thompson cheated on Khloé Kardashian throughout her pregnancy. Thompson and Khloé Kardashian's teams have not responded to requests for comment from Elite Daily.
The chorus and bridge on "All Mine" are performed by Valee and Ty Dolla $ign and, frankly, they're too dirty for me to print here without my editor getting angry. But all the fun happens when Kanye starts rapping.
"If I pull up with a Kerry Washington / That's gon' be an enormous scandal," West says to kick off the first verse. With those two lines, you already get some allegations. Ye premiered outside of Jackson Hole, Wyoming on Thursday night, May 31, and Chris Rock helped to introduce it. Now, in 2017, Page Six reported claims that Rock cheated on his wife with Washington years ago. Neither Rock nor Washington confirmed this, and Elite Daily reached out to both's representatives for comment, but did not hear back immediately. Obviously, the "scandal" part in West's lyrics refer to the show.
In the next lines, West raps, "I could have Naomi Campbell / And still might want me a Stormy Daniels." The implication here, clearly, is that West could be dating someone like a model but still be moved to cheat. But also, the line brings another reference to a claim of a high-profile cheating scandal. Daniels, a former adult film star, is most widely known now for her allegations of an affair with Donald Trump about 10 years ago, when Melania Trump was pregnant with her first child with Donald, Barron. President Trump has repeatedly denied this allegation. Daniels is suing Trump to void a reported non-disclosure agreement that was made in 2016 by Trump's personal lawyer, Michael Cohen, shortly before the election. Cohen has admitted to paying Daniels, but denies that it had anything to do with the election.
Yeah, that's not the end of the verse of rumors and references. "Sometimes you gotta back to boss up / I call that taking Corey Gambles," West raps next, name-dropping his mother-in-law Kris Jenner's boyfriend. There's a couplet comparing a food court to cheating (literal objectification of women — classic Kanye), and then we get to the Thompson line. "All these thots on Christian Mingle / Almost what got Tristan single."
And finally, to close out this portion of the verse, West raps, "If you don't ball like him [Tristan] or Kobe / Guarantee that b*tch gonna leave you" (calling women "b*tches" — classic Kanye). Kobe Bryant has also been surrounded by rumors of having cheated on his wife, Vanessa. Bryant was accused of rape in the early 2000s, after he married Vanessa, and over the course of that case, he admitted to having had what he claimed he thought was a consensual encounter with the woman. The rape case was dropped as the accuser was unwilling to testify.
WHEW... and that's the end of the cultural references in verse one. Tight cultural references loaded with connotations have long been a forte of West's, and clearly, he's back at it with this track. That said, talking like you did in 2004 (i.e. objectifying women and talking about them like they only exist for your sexual pleasure without agency of their own, an arguably apparent lack of regard for the institution of marriage and loyalty to your wife, calling women "b*tches") just sounds outdated, out-of-touch, and disrespectful in 2018. All your heroes should be women. Kanye is canceled.