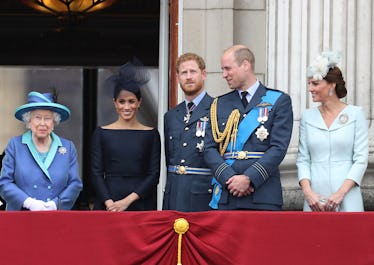 The Meaning Of The Name Arthur For The Royal Family Explains Why It's So Popular Among Them
Chris Jackson/Getty Images Entertainment/Getty Images
With the marriage of the Duke and Duchess of Sussex, Prince Harry and Meghan Markle, sister Kate Middleton and Pippa Middleton's new babies, and the announcement of Harry and Meghan's wee-one on the way, the whole world has been watching the royal family. I've read more articles, think pieces, and reports about British royal tradition in the past six months than I have in my whole 29 years of life. Today, I'm on a royal family name kick, and this time I'm diving into "Arthur." The meaning of the name Arthur for the royal family goes way, way back, as you can imagine, and explains why it's so popular amongst family members today.
For reference, here is a rundown of some of the popular people either in or associated with the royal family who have the name "Arthur" somewhere in their signature:
Queen Elizabeth's first son, Prince Charles Philip Arthur George of Wales
Prince Charles' first son, Duke of Cambridge, William Arthur Philip Louis
Prince William's youngest son, Prince Louis Arthur Charles of Cambridge
Pippa Middleton's son, Arthur Michael William Matthews
Obviously, it's common in many cultures for fathers to name their sons after them, and you might notice the first three men are all direct descendants of each other. As for Pippa's son, Arthur Michael William Matthews, he is the newest family member dubbed with the famous name. Arthur was born on Oct. 15, almost exactly five months after his cousin, Prince Louis, who shares the name.
So, where did Arthur come from and why does the royal fam care about it so much? Well, does the name King Arthur of Camelot ring any bells?
According to medieval legend, King Arthur and his Knights of the Round Table battled against Saxon invaders in the 5th and 6th century from their mythical city, Camelot. According to History.com, the jury is still out on whether or not King Arthur was a real person, but his and his knights' story is a foundational pillar in the history of British culture. Even I remember the tale about the honorable king who created a circular table in order for his whole team feel equal. (Pretty ahead of his time, no?)
The name Arthur popped up again (for real this time) in 1985 with Queen Elizabeth II's father, King George VI. His full name was Albert Frederick Arthur George, which surely inspired Prince Charles' full name, too. In fact, it is somewhat surprising the name jumped Charles' first grandson and William's first son, Prince George, who has the full name George Alexander Louis. (Still pretty royal, TBH.)
Today, fans are most interested in what Harry and Meghan are going to name their first baby. Meghan is American, of course, which is to say she has less of a tie to Britain's name history. Also, just a fun fact, her legal first name is "Rachel." Harry's full name is Henry Charles Albert David, which gives them lots to work with.
No offense, Arthur, it just might be another name's turn.