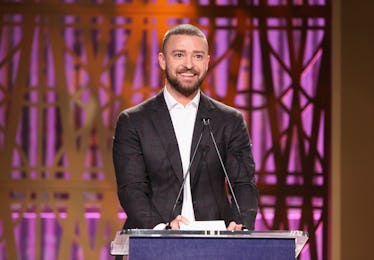 The Meaning Of Justin Timberlake's Song "Montana" Is Much Deeper Than You Think
Jesse Grant/Getty Images Entertainment/Getty Images
This was a really big week for Justin Timberlake. Jan. 31 marked the "Filthy" singer's 37th birthday. His new album, Man of the Woods, finally dropped today on Feb. 2. And the former 'NSync-er will be headlining the half-time show of Super Bowl LII in just two days, on Sunday, Feb 4. Sure, that's all pretty impressive. But what's really blowing my mind at the moment is the song "Montana," because the meaning behind it is just so deep.
Some of the lyrics to Montana read, "When the moon wakes up the sun, and our shadows cast up on the mountains, it gives the stars somethin' to watch." At the end of the song, J.T. sings "Back to you, ooh MontanaTake me back to you, ooh, Montana." Big fans of Justin Timberlake know he has a home in Big Sky, Montana that he shares with his wife, Jessica Biel, and their son, Silas. It's basically their home away from home. One can imagine it's definitely quieter there than the hustle-and-bustle that is L.A. The song is about the quiet moments he shares with his family, especially with his wife, in Montana.
J.T. makes a pretty bold statement at the opening of his fourth album: "I got my swagger back," and it's probably a reference to the fact that his last release was the more jazzy The 20/20 Experience. But from what we've seen of Man of the Woods so far — via singles "Filthy" and "Supplies" — the guy who officially brought sexy back in 2006 has gone back to his funky roots with a mix of electropop and hip hip on 16 personal tracks. He's even teamed up with longtime collaborators The Neptunes and Timbaland, plus Alicia Keys shows up for a duet called "Morning Light," as does Chris Stapleton for the country-ish collab "Say Something," which Timberlake released about a week-and-a-half before the album.
I'm in love with this song, you guys! It's just so, so good! Of course, the Grammy winner also has another uncredited guest spot on the album's lead track.
"I play guitar on the very first sound you hear on 'Filthy,'" Stapleton revealed to Billboard.
Pretty cool. But while we were introduced to three of the songs on MOTW before its release, the rest of the jams remained a mystery except for their names, which Justin shared with us via a handwritten post on his Instagram.
He's got some pretty good penmanship, right? Anyway, until the album's release, this was the only thing we had related to the song "Montana." But now that it's finally here, I can say that I am officially obsessed with the meaning and emotion behind it.
I just can't stop listening to this song, and you should probably go check it out too if you haven't already, because J.T.'s fans apparently seem to feel the same way.
Of course, the meaning behind the tune isn't all that surprising, given that when Timberlake first gifted us all with his Man in the Woods teaser video back in early January, he shared a bit about his inspiration behind it.
"This album is really inspired by my son, my wife, my family, but more so than any album I've ever written, where I'm from," he said. "And it's personal."
How personal? Well, in an interview with Beats 1 Radio Show, Timberlake revealed that even the name of the album itself was inspired by his little boy.
"I literally just went on Google like, 'meaning of the name Silas,' and it sent me to this to this site and it said, 'of Latin origin, meaning Man of the woods,'" he explained. "I was like, 'How serendipitous that my last is Timberlake,' like what does that mean?"
Pretty sure it means Timberlake is officially all grown up now. And can we all just agree that J.T. googling the meaning of his kid's name is total #DadGoals?
I don't know about you guys, but I can't wait to see this Man of the Woods hit the field for the halftime show on Sunday!