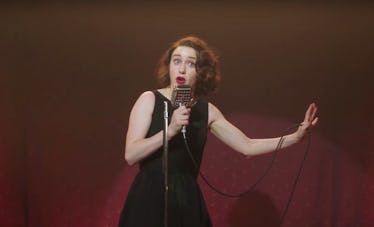 The 'Marvelous Mrs. Maisel' Season 2 Trailer Shows Midge Is Back & Better Than Ever
Amazon
The Marvelous Mrs. Maisel is ready for its second act, and its hilarious new Season 2 trailer proves it will be just as marvelous as its first. Fresh off dominating the Emmy Awards, Amy Sherman-Palladino's '50s-set ode to stand-up comedy is taking on bigger stages than ever this time around, but the most important thing in the Marvelous Mrs. Maisel Season 2 trailer is that we finally know when the new season will premiere! Fans only have a little over a month to wait before diving back into the messy, inspiring, dramatic, and hilarious life of Midge Maisel.
The new trailer teases that Season 2 of The Marvelous Mrs. Maisel will pick up immediately after the events of the Season 1 finale, in which Midge Maisel had begun to gain some small level of notoriety for her still burgeoning stand-up career as her ex-husband Joel finally watched her act for the first time. In Season 2, Midge's star will continue to rise in the comedy world as her manager Susie Myerson books her at bigger venues, but Midge will have to deal with the fallout of her parents learning about her new profession. At the beginning of the new trailer, Midge laments the fact that only Susie and Joel know about her stand-up career, and later we see her parents Abe and Rose characteristically urging her to find a husband.
The two-minute clip also shows that although Midge Maisel is making a name for herself, she will still come up against misogynistic male comics who belittle her for being a woman in the industry. But of course, Midge has the perfect rebuttal for anyone who claims that men are funnier than women, which she includes in her act. Check out the full Season 2 trailer below:
While the new trailer is full of funny moments and eye-catching scenes, the most exciting part about it is actually the end. Fans have been waiting for months to find out when Season 2 of Marvelous Mrs. Maisel will be released, and now we finally know that it is coming to Amazon Prime on Wednesday, Dec. 5.
Rachel Brosnahan took to Twitter to share the newly announced premiere date and also the official poster for The Marvelous Mrs. Maisel Season 2.
We also know that this season of Marvelous Mrs. Maisel will travel to so many more places than just Manhattan. A previous trailer revealed that Season 2 will be partially set in the Catskills, and the cast also popped over to Paris to film some scenes for this season as well. The new season will also bring back Luke Kirby as Lenny Bruce, as we can see from the new trailer, and Jane Lynch as Sophie Lennon for two episodes.
Season 2 will definitely receive a lot more attention after the show's first season became one of the biggest winners at the 2018 Emmy Awards last month. The Marvelous Mrs. Maisel was up for six Emmys for its debut season, and wound up bagging five of them, including the coveted Outstanding Comedy Series trophy.
Look for Season 2 of The Marvelous Mrs. Maisel to begin streaming on Amazon Prime on Wednesday, Dec. 5.