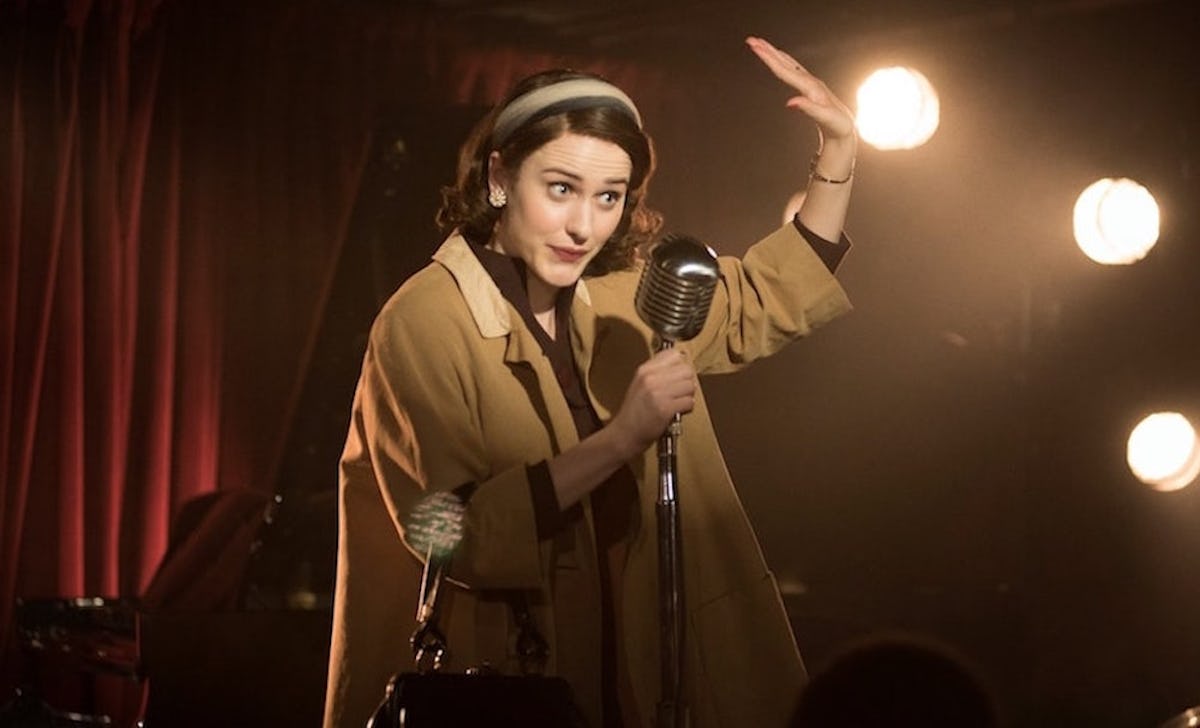 Here's How To Stream 'The Marvelous Mrs. Maisel' So You Can Catch Up Before Season 2
Amazon
If The Marvelous Mrs. Maisel wasn't on your radar before the Emmy Awards, it might be now. The acclaimed series, which is about to enter its second season, picked up seven awards on TV's biggest night and dominated the comedy categories. If you're wondering how to stream Marvelous Mrs. Maisel so you can catch up before its return, look no further than Amazon. Season 1 is currently available on Amazon Prime Video.
Amazon initially made waves in the original programming arena back in 2013. The service kicked things off with under-the-radar shows like Betas and Alpha House, but they didn't gain critical traction until 2014's Transparent debut. They saw continued success with series such as Bosch and Mozart in the Jungle, though The Marvelous Mrs. Maisel is the entertainment giant's buzziest and most award-winning hit to date. The 1950s-set comedy follows NYC housewife Midge Maisel as she embarks on new life as a downtown standup comedian. Rachel Brosnahan (House of Cards) is brilliant in the title role and the show just happens to be created and helmed by Gilmore Girls mastermind Amy Sherman-Palladino. Amy made history at Sept. 17's Emmy Awards when she became the first woman to nab trophies for both directing and writing.
"It's about a woman reinventing herself ... and it's never too late to do that. And it's funny and filled with joy at its core — and that's something we need a lot more of right now," Brosnahan (who won Lead Actress in a Comedy Series) explained of the series' significance.
The Marvelous Mrs. Maisel's Season 2 release date has yet to be announced, although it appears its probably closer than fans might realize. According to Deadline, Sherman-Palladino confessed that it's set to come back "this year, they're waiting for us to finish the show, it's coming out this year." The teaser trailer for its sophomore installment was released in August. Season 1 was released in full at the end of November 2018, so perhaps eager viewers can expect a similar scheduling timeline just in time for that Thanksgiving weekend binge.
"She's a mother and a daughter and a wife…ish," Brosnahan teased to IndieWire, speaking about what to expect for Midge's next chapter. "By the time we leave her at the end of Season 1, she's a working woman with a job, and she's also trying her hand at stand-up comedy. And those three worlds, they don't work together very well. So I look forward to watching her struggle to maintain those three different identities simultaneously."
The main Maisel cast is expected to return for Season 2 and Chuck's Zachary Levi joins the them, portraying an "eclectic Manhattan doctor."
The Marvelous Mrs. Maisel has a lot to celebrate, including the fact that its already been renewed for Season 3. But Midge's path isn't quite as concrete in the showrunner's mind as Rory Gilmore's was. Where is the marvelous character headed? Sherman-Palladino told Rolling Stone:
We have a general idea. It's not as clear as Gilmore — which, I knew the last four words from day one — but we have a trajectory. What we know less is how long we're gonna take her to get there. As wonderful as the structure of 10 episodes is, we are finding ourselves sometimes desiring more time.
No matter where Midge ends up, it's sure to be an enjoyable ride. The Marvelous Mrs. Maisel is currently streaming on Amazon.