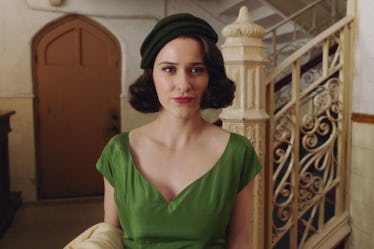 Midge Is Back & Better Than Ever In The 'Marvelous Mrs. Maisel' Season 2 Trailer
Amazon
C'mon, get happy! The summer doldrums may be in full swing, but over on Amazon Prime Video, they're preparing for the return to the stage of the one, the only, Miriam "Midge" Maisel (Rachel Brosnahan) aka the Mad Divorcee of the Upper West Side. Season 1 of the 1950s-period comedy, which focuses on her extraordinary stand-up career, has been Amazon's closest thing to an unexpected breakout hit. Now The Marvelous Mrs. Maisel Season 2 trailer has arrived, and it looks like the new season will see her head to the Jewish comedy haven of the era, the Catskills.
But things aren't just happening for Mrs. Maisel's career. She is, for instance, still a "Mrs." Her estranged husband, Joel Maisel (Michael Zegen), is still in the picture and still trying to deal with the idea his wife turned out to be a better stand-up comedian than he did. The decision by the two of them to co-parent (a very modern arrangement for the era) means she isn't able to entirely cut him out of her life. So, when it comes to her love life, there's more than just one man who she'll have to juggle, along with her kids.
As for the trip to the Catskills, it looks like everyone is coming along, including a couple of new faces. Check out the full trailer below:
It does appear to be Zachary Levi on a boat ride with Midge in the trailer, too. Levi is confirmed to be joining the cast this season, though his role has not been disclosed.
As for Season 2 details, showrunner Amy Sherman-Palladino (who was best known for Gilmore Girls prior to this) says the series will only expand as it goes on.
Season 2 is big … And we feel like we've got, for the first time in our career, the support from the brass, the actors — we have all of the pieces to go big or go home.
This makes sense, as from filming rumors, the Catskills will only be the beginning. By the time the season ends, Midge will have headed to even bigger places: Paris.
With 14 Emmy nominations for Season 1 under the show's belt, along with two Golden Globe wins last January, two Critics' Choice awards, and a Peabody, Amazon is very eager to have more of the show and has already greenlit Season 3.
Amy Sherman-Palladino told Variety the recognition her work is receiving means so much.
We have a lot of really hardworking, brilliant people over here who have not slept in in a year and a half for us. We're very happy that all their work has been really acknowledged. Everyday we show up and there's nothing but skirts and crinolines as far as the eye can see running around... if you have a very specific creative vision and you want someone to really have your back, it signals that because it's been a great ride there.
The Marvelous Mrs. Maisel Season 2 will bump up from eight episodes to 10. No release date has been announced yet, but hopefully one will come soon.