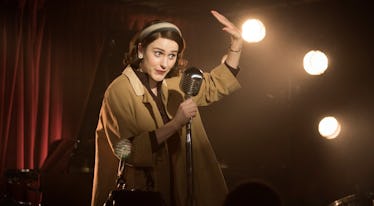 'The Marvelous Mrs. Maisel' Cast & Creator Finally Reveal What Season 2 Has In Store
Amazon
Things may have been looking up for Midge Maisel at the end of the first season of Amazon's '50s-set stand-up dramedy, but the intrepid comedian is going to face a host of new issues in the upcoming second season. The cast and creatives behind The Marvelous Mrs. Maisel dropped some new information about the upcoming season at the Television Critics Association press tour over the weekend, and these Marvelous Mrs. Maisel Season 2 details will totally help hold fans over until the new season premieres.
One thing that Midge will still have to deal with in Season 2 is her estranged husband Joel Maisel, whom she will continue to have a complicated relationship with throughout the new run of episodes. Rachel Brosnahan underlined the dramatic tension between Midge and Joel in the new season, saying that because they are co-parenting, they will never really be able to block one another from their lives. Michael Zegen, who plays Joel, added that the new season will continue to develop the love-hate relationship Joel has with Midge's newfound success, which we saw come through in Season 1: "On the one hand he loves Midge and he saw that she was really talented, but on the other hand, it's a big blow to his ego that she's really talented."
One person who has no mixed feelings about Midge at all is her new agent Susie. Alex Borstein says that now that Midge is finding her voice in stand-up, Susie feels as though she has found "her Mozart." She says that Susie views Midge as the great love of her life, although makes clear she does not mean that in a romantic sense.
In the general sense, showrunner Amy Sherman-Palladino is promising that Season 2 will be even bigger and more ambitious that the debut season. And that really is saying something, since one of the most mind-blowing aspects of The Marvelous Mrs. Maisel Season 1 was the detail and authenticity that went into creating massive set pieces that actually felt like 1950s New York City. Sherman-Palladino, who also created witty female-led dramedies Gilmore Girls and Bunheads, said this is the first time she has felt the full support from a studio to really unleash her creative dream:
Season 2 is big … And we feel like we've got, for the first time in our career, the support from the brass, the actors — we have all of the pieces to go big or go home.
Amy Sherman-Palladino did not go into specifics on exactly what "going big" will entail for Season 2, but we already have some ideas from clues that have been dropped along the way. In a literal sense, the new season will be bigger because it will include more episode: Season 2 will consists of 10 episodes, up from the eight that made up Season 1. The cast will also be bigger, adding Zachary Levi as a Manhattan doctor who begins to spend a lot of time with the Maisels and Weissmans. Oh, and the story will break out of New York for the first time, with the cast filming some scenes in Paris this season.
Season 2 of The Marvelous Mrs. Maisel does not have a premiere date yet, but fans are expecting it to drop before the end of 2018.