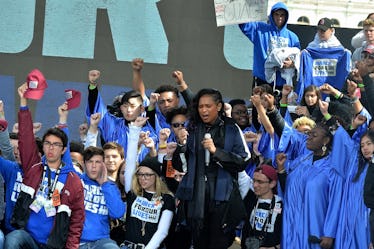 The March For Our Lives Students Are Being Targeted & It's So Wrong
Shannon Finney/Getty Images Entertainment/Getty Images
Saturday, March 24 might have gone down in history as one of the most successful student-led mass demonstrations in the nation's history. But that hasn't stopped the floodgates of criticism from reaching the student survivors-turned-activists. The March For Our Lives students are being targeted in a number of ways and by a number of critics.
The students being subject to attacks and abuse are all from Marjory Stoneman Douglas High School (MSD) in Parkland, Florida, where a shooting took place on Feb. 14. In response to the Parkland shooting, which left 17 of their fellow classmates and school staff dead, the group of students organized the youth-fronted March For Our Lives, which took place this Saturday in the nation's capital, to call for action to address gun violence. Joined by over 800 sibling events around the world, the marches were collectively attended by an estimated 1.2 million people in America. The official Washington D.C. march drew between 200,000 and 800,000 attendees.
Attacks have flown back and forth between the students leading the #NeverAgain charge and the powerful gun lobby National Rifle Association (NRA). But the exchanges escalated last week when an NRATV host confronted the Parkland students ahead of the march in a video posted March 22. In the video, the host points to an armed officer who took out the active shooter at a Maryland school last week, as an example of a "good guy with a gun." "To all the kids from Parkland getting ready to use your First Amendment to attack everyone else's Second Amendment at your march on Saturday," the host said, "I wish a hero like Blaine Gaskill had been at Marjory Douglas High School last month because your classmates would still be alive."
"These kids ought to be marching against their own hypocritical belief structures," the host continued. "They hate machines that cause death ... they hate the idea that guns save lives."
Conservative site Gateway Pundit, ThinkProgress points out, has also been targeting several MSD students leading the #NeverAgain movement. Meanwhile, fellow MSD student Kyle Kashuv has repeatedly criticized his peers' activism and views, and challenged them to debate.
One of the movement's leaders, Emma González, has been subject to scathing vitriol, even from political hopefuls who might be expected to refrain from controversial comments during election season. But convention (or common courtesy, for that matter) didn't stop Maine state House of Representatives candidate Leslie Gibson from referring to the Parkland student as a "skinhead lesbian," prompting another woman to file as her challenger. Gibson has since dropped out of the race, The Hill reports.
González was also subjected to attacks over wearing a patch of the Cuban flag, this time by a sitting congressman. Rep. Steve King over the weekend posted a Facebook image of González accompanied by text that read, "This is how you look when you claim Cuban heritage yet don't speak Spanish." Responding to comments on the post, King wrote, "just pointing out the irony of someone wearing a communist flag while advocating for gun control."
The Washington Post reports that a photo of González was co-opted and doctored to show a false depiction of her ripping up the United States Constitution. The photo was lifted from a Teen Vogue story, and in the original picture, she's ripping up a gun range target.
Conservative host Bill Mitchell made a mean-spirited joke about David Hogg, one of the #NeverAgain movement's most prominent leaders, about a facetious casting call. In his tweet, Mitchell implies that Hogg looks the part for "a Damien, Children of the Corn, Hitler Youth-type to cast in a flick about an Orwellian future where fear and emotionalism is used to subjugate a free people.'" Gibson also had words for Hogg, calling him a "baldfaced liar."
Hogg was also the target of conspiracy theories that he was a "crisis actor" who was being paid for his participation in the media to garner sympathy for the movement. Donald Trump Jr., the president's eldest son, liked a tweet about this theory on Twitter.
Activists are often the targets of unrelenting hatred, threats, and criticism, and it's not without consequence. A March 26 report in The New York Times highlights how the wear and tear of the job can lead to fatal endings for some activists, including suicide and stress-related health problems.
The attacks on the MSD students have apparently grown to the point that fellow MSD student Ryan Deitsch made a plea for people on social media. "Please I ask those who respond without the courtesy of constructive criticism to at least be fair and share their own names as my friends and others have. Too many responders have been personal attacks while also being hidden in anonymity," he wrote.
At least one of the students appears to be taking the criticism in stride, but that's hardly a comfort. González, asked about how she's handling the attacks on CNN's The Lead, said, "We're kids. We live in high school. That's bullying central," she said, adding, "I'm able to laugh it off."
Props to González. But how the targeted attacks might affect — or already have affected — her peers is still an unanswered question.