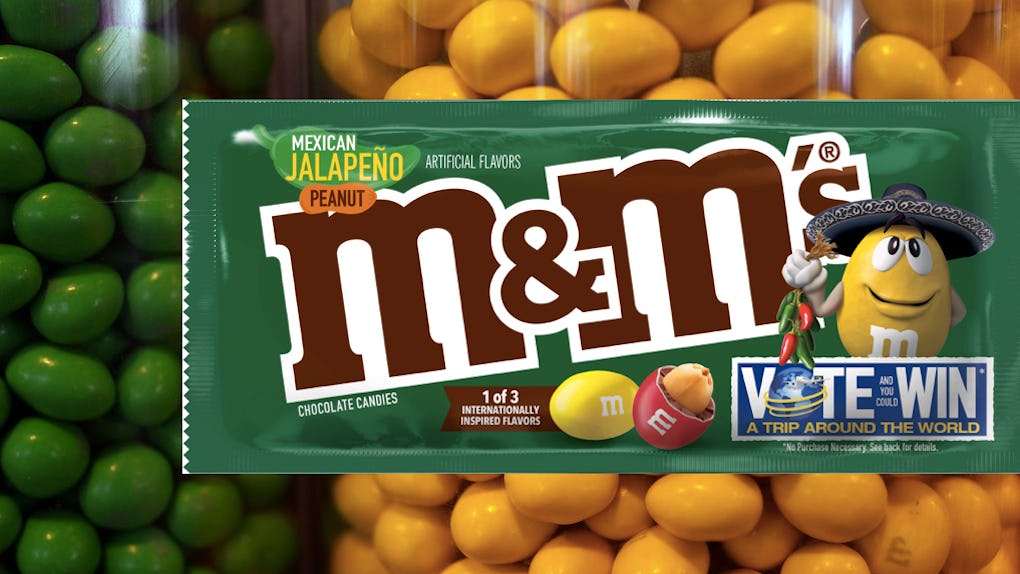 Spencer Platt/Getty Images News/Getty Images/Mars Wrigley Confectionery
The M&M's Internationally-Inspired Flavor Vote Contest For 2019 Features Bold New Options
It's that time of year, everyone. Three new M&M's flavors are about to hit the shelves so you can try 'em all and vote on your favorite one. In other words, Mars Wrigley Confectionery's beloved Flavor Vote contest is coming back — and this year's flavors are bolder than ever. In fact, the M&M's internationally-inspired Flavor Vote contest for 2019 features options that'll send your tastebuds on a vacation (literally). The choices included in the contest are inspired by iconic flavors from Mexico, Thailand, and England — and if you vote on one of them, you'll be entered to win a trip to all three of those countries. Delicious flavors and a possible vacay? Count me in.
Before I get into detail about each new flavor, let's talk about the contest a little bit more. In cause you're unaware, this isn't the first Flavor Vote campaign that Mars Wrigley Confectionery has hosted. Back in 2016, the public voted on three M&M's flavors and crowned Coffee Nut as their winner. Last year, chocolate lovers voted on three more flavors and brought Crunchy Mint to the shelves. This year, M&M's enthusiasts will be able to choose from three different options that'll shock their taste buds (in the best way).
Mexican Jalapeño Peanut
If you like jalapeños as much as I do, then you'll probably love the new Mexican Jalapeño Peanut flavor. According to a Mars Wrigley Confectionery press release emailed to Elite Daily, this upcoming flavor "combines just the right amount of spice with chocolate." I'll take a handful, please.
Thai Coconut Peanut
Those of you who are craving tropical flavors in the midst of winter will probably love these Thai Coconut Peanut M&M's. According to a press release, this flavor is a "savory sweet" option that'll send your tastebuds on a trip to Thailand.
English Toffee Peanut
Those of you who enjoy the sweet taste of toffee might enjoy these English Toffee Peanut M&M's, which are inspired by Great Britain. They're tasty, elegant, and ready to be devoured.
Now that you know more about each flavor, you're probably wondering when you'll be able to head to the store and try them. According to Mars Wrigley Confectionery's press release, the new selections will be available at retailers nationwide on Jan. 28. In other words, you have some time to cleanse your palate before opening one (or three) of these bags.
If you're excited to try these internationally-inspired flavors, you're not alone. Allison Miazga-Bedrick, Brand Director of M&M's, talked about the new Flavor Vote contest in a press release. She said,
With M&M's Flavor Vote back this year, we're thrilled for our fans to vote and are sure the three internationally-inspired flavors will excite their taste buds. We believe flavors have the power to transport you, and this time, we are making that journey a reality by offering participating fans the chance to win a trip around the world.
As Miazga-Bedrick mentioned, you'll automatically be entered to win a trip to Mexico, Thailand, or England when you partake in the Flavor Vote contest. You can start voting on Jan. 28, 2019, per Mars Wrigley Confectionery. Once that date comes around, you can head to the M&M's Flavor Vote website, or text "Vote" 84444. Easy peasy.
If you're having trouble deciding on a flavor, don't fret. According to a press release, you'll have until May 17 to pick your favorite — so there's no need to rush. Once all votes are in, the winning flavor will be announced in August 2019, and that bag will score a spot on shelves nationwide.
It's gonna be a tough decision, y'all. Taste (and choose) wisely.