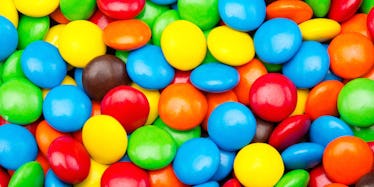 The New M&M's Flavor Has Been Announced And It Will Change Your Mornings
Shutterstock
If you thought picking the next president was a tough decision, just wait. You clearly haven't seen the tasty treats that were in the running to secure a permanent spot in the new peanut M&M's variety bag.
That's right. Back in June, M&M released a limited variety pack that included three candy candidates: Coffee Nut, Honey Nut and Chili Nut.
Then, M&M's asked fans to cast their votes and help select its next coveted candy flavor.
Now, the moment you've been waiting for is finally here. After receiving a huge response from the American public, the votes have been counted, and the winner is... drum roll please...
Coffee Nut!
That's right, it turns out Coffee Nut won by a landslide, and according to an M&M's press release, the java-inspired flavor received over one million votes during the mouthwatering selection process.
Now that we've revealed Coffee Nut's sweet victory, you probably have one important question: What does the new flavor taste like?
Apparently, the coffee nut candy features a super sweet mocha taste that's kind of similar in taste to coffee-flavored jelly beans.
If you're looking to get your hands on this sugary snack, you'll be able to find the Coffee Nut flavor in new Peanut M&M's variety bags starting this August.
Seriously, who knew democracy could be so delicious?
Citations: Update: And The New M&M Flavor Is... (Refinery29)