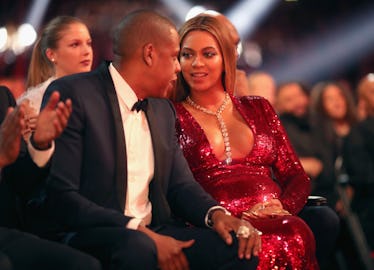 Rumi & Sir Got A Special Tribute On 'Everything Is Love' & My Heart Is So Full
Christopher Polk/Getty Images Entertainment/Getty Images
Welcome to a world in which JAY-Z and Beyoncé have an album together, and nothing is the same. The power couple dropped Everything Is Love on the evening of June 16, surprising fans and, well, making everyone freak out. Despite (or maybe because of) the attention on music's most famous couple, the album is surprisingly honest, sharing a look at what it's like to be part of the Carter-Knowles family, including some adorable lyrics about Rumi and Sir, and let me tell you, I can't get over the picture this paints for me.
Bey and Jay have been pretty closed-mouthed about their children, (rightfully) protecting them from the public eye and all the ~dramatic~ speculation that goes with that. But that doesn't mean that they're pretending the kids don't exist. On the new album, both the twins get a little shout-out by name, and the picture it paints of the Carter-Knowles household's day to day is honestly so touching.
In "LoveHappy," the final song on the album, the parents-of-three offer a peek into the idyllic and honestly extravagant life they share with their kids, singing,
Pretty thug, out the third ward, hit me / Sir asked it, like his dad's sh*t is trippy (uh-huh) / Twinning, Blue and Rumi / (Happy in love)
Um, the idea of big-sis Blue and little-sis Rumi "twinning" together is just about the cutest thing I've ever heard and I'm officially dead.
Also, if there's any look that says, "that sh*t is trippy," it's the expression on Sir's face in that photo there, so I'm just going to say I can get behind that too.
But that's not even the only shout out to the twins on the album, and this other one might actually be my favorite. At the very end of the song "Boss" on Everything Is Love, big sis Blue tells her little sibs how much she loves them. "Shoutout to Rumi and Sir, love Blue," you can hear the six year old say. Ugh, my heart.
Blue also got some love of her own in the album — besides that joint mention of her and little sis Rumi, Blue also gets name-dropped in "Nice" and, my favorite, "713," where her parents reference what I'm sure is a take-no-prisoners attitude with the line, "And my little baby Blue is like 'Who gone stop us, huh?'"
No one, Blue. No one's going to stop you.
The album dropped just a few days after the twins celebrated their first birthday on June 13, so it just feels appropriate that there's a tender shoutout — or two — to them on the album.
Of course, it also makes sense that the duo would be all about promoting their sweet family life — the new album is pretty clearly a response to the Carter-Knowles family drama that's been publicly going down for several years, starting when Beyoncé dropped her groundbreaking album Lemonade back in the spring of 2016, and everyone in the world went, "how did anyone dare cheat on Beyoncé??" Then in summer 2017, Jay went ahead and released his own album, 4:44, in which he basically admitted that yep, he was the fool who cheated on Beyoncé, and it was a bad idea. But this new album is a celebration of them coming back from their marital troubles and rebuilding a happy relationship, so it's really only fitting that their kids are included.
Congrats to Sir and Rumi for getting referenced in one of what will certainly be the most important musical works of our generation, and also for, you know, being born into a powerhouse musical dynasty. I'm sure it's only a matter of time until you graduate from being name-dropped to doing the name dropping yourselves. Blue can show you how's it all done.