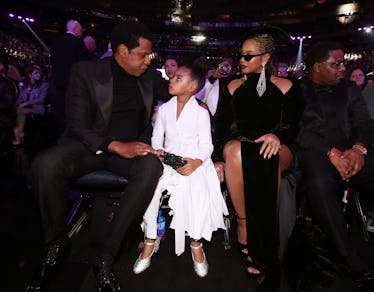 Blue Ivy Gives A Shout-Out To Her Siblings On Beyoncé & JAY-Z's New Album & It's Everything
Christopher Polk/Getty Images Entertainment/Getty Images
On June 16, Beyoncé and JAY-Z released Everything Is Love, their first full-length collaborative album. Both the Beygency and the JAYgency (?) lost their minds when the surprise album hit TIDAL, and fans immediately started breaking down the album's lyrics, beats, hidden, and not-so-hidden messages. One moment in particular has fans oo-ing and aw-ing: 6-year-old Blue Ivy singing on "Boss" about her twin siblings, Rumi and Sir.
Honestly, coming off the heels of her epic performance shushing her parents at this year's Grammys, it comes as no surprise that Blue Ivy has found a way to shine on Beyoncé and JAY-Z's new album. Being the rising international superstar she so clearly is, her line, which comes during the outro of the song, is tasteful and simple. Because of course it is. After Beyoncé sings her final line, you hear Blue say, "Shoutout to Rumi and Sir, love Blue." She's clearly establishing herself as second coming of Beyoncé, and it's a beautiful thing.
In addition to her own line, Blue gets her own shoutout in the song. In the third verse, Beyoncé sings:
Ain't nothing to it, I boss so I bought my momma a whip. My great-great-grandchildren already rich. That's a lot of brown chi'r'en on your Forbes list. Probably looking around my compound on my fortress, boss. I be ridin' around with my seat reclining. Droppin' my daughter off at school every morning. We slammin' car doors, I be true balling on these bum wh*res. You ain't talking about nothing, I ain't got no time, boss. Chill, tell them pets they gotta relax (you tried it!). Toes in the sand, momma gettin' fat stacks
So Beyoncé, with her seat reclined, drops Blue of at school in the morning, slamming car door. It's a stunning visual.
Between school and her budding music career, Blue Ivy is also apparently an amazing big sister. Her grandma Tina Knowles told Entertainment Tonight that when it comes to Rumi and Sir, Blue is "very proud and very excited. She's a good big sister, she really is."
Rumi and Sir have recently had their time in the limelight on Beyoncé and JAY-Z's On the Run II tour. At Principality Stadium in Cardiff, Wales on June 6, the power couple shared a video that included the vow renewals and never-before-seen photos of their 1 year-old twins.
Beyoncé and JAY-Z have hardly shared photos of their twins, so this was a monumental moment. Of course, screen-grabs of the twins took over the internet immediately after the video debuted.
Although they are famously private when it comes to their three children, in January, JAY-Z revealed new details about their home life with two twin babies to CNN. Before the twins hit their first birthday, JAY said, "We are in a beautiful time now because they are seven months and they can't move... They can just coo … they just coo and you don't have to, 'Wait, wait, wait, wait'... You know, they're not running anywhere yet. We are going to enjoy these couple of months until they start running, and then it's over."
With the twins growing at rapid speed and Blue Ivy's impending solo album on the line, it's important for fans to take a step back and remember that yes, you are that old.
You can now listen to the full "Everything Is Love" album on JAY-Z's streaming service TIDAL. There is no expected date on when the album may hit other streaming services, although their music video "Apesh*t" available on YouTube, so you can enjoy that at no cost in the mean time.