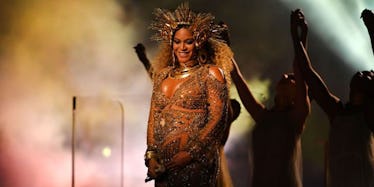 We Finally Know Rumi And Sir Carter's Actual Birthday, So Mark Your Calendar
Kevork Djansezian/Getty Images for NARAS
Not that it's a competition, but someone had to be the better Carter twin.
After Beyoncé bestowed the planet with the greatest gift of all, her sweet, sweet, new babes Sir and Rumi Carter, we now have new information about which twinsie might be the eldest. But, more importantly, we know what day they were actually born!!!
Drum roll, please... AND THE WINNER IS...
Don't be nuts. It's Rumi, obviously.
Popping out at 5:13 a.m. on June 13, 2017, Rumi beat out her little bro by mere moments, according to E! News.
You hear that, planet? June 13. Lucky number thirteen (but not in a Taylor Swift kind of way, we are talking strictly in a Beyoncé kind of way).
Rumi making her big debut before her twin brother makes sense. I mean, if there's one thing Beyoncé's taught us, it's girls rule and boys drool, ALWAYS.
Sure, sure, it's not little Sir's fault he came in second, but it is the nature of ~*~*~The Beyoncé~*~*~ for female energy to dominate.
Duh.
It's been a hell of a year to be a part of this family. In fact, just weeks after the twins arrived, dad JAY-Z admitted to cheating on Beyoncé on his new album 4:44. 
In his track "4:44," JAY raps the lyrics:
I apologize, often womanize / Took for my child to be born / See through a woman's eyes / Took for these natural twins to believe in miracles / Took me too long for this song / I don't deserve you
WOO. I still need a minute, and I've been listening to this album since it dropped over two weeks ago on June 30.
Still, this leaves us all wondering: How's our main girl, Blue, doing?
An insider told E! News that Blue is loving being a big sister, and even with all the attention her baby brother and sister are receiving, she is doing a great job helping her mom out.
Of course. She's a Beyoncé – we mean Carter – after all.