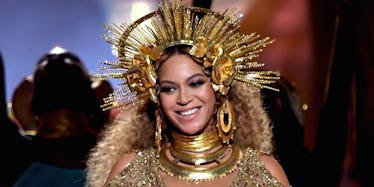 The First Picture Of Beyoncé's Twins Is Here, And Rumi And Sir Are Perfect
Getty Images
BEYONCÉ'S TWINS ARE HERE AND THEY ARE PERFECT.
Yes, Beyoncé, our Lord, light, and savior, majestically gave birth to two children and now their names are Rumi and Sir.
WHAT PERFECT NAMES. WHAT PERFECT BABIES. WHAT A PERFECT WOMAN.
(Just for the record, I freak out this much when literally any woman I remotely care about — famous or not — has a baby because childbirth is the most badass thing on the planet. Literally nothing impresses me more than the fact women push ACTUAL HUMANS OUT OF THEIR ACTUAL BODIES.)
And now, the first official photo of Beyoncé and JAY-Z's beautiful twins is here.
Early Friday, June 14, Beyoncé posted the first photo of her new babies and they are too cute for words.
LOOK AT THEM! JUST LOOK AT THEM.
Earlier, on June 30, TMZ broke the news Beyoncé and JAY-Z reportedly named their twins Rumi and Sir, even though the original rumors circulating said the babies' names were Bea and Shawn.
OK, WHO THE HECK MADE UP THAT RUMOR THEN? This is why I have trust issues.
In the photo above, Queen Bey officially confirms her babies names are Rumi and Sir. She captioned the photo,
Sir Carter and Rumi 1 month today.
On top of that, TMZ reported Beyoncé and JAY's company — the one that deals with trademarks for their names — will be filing the rights to Rumi and Sir Carter.
This will come in handy for several baby items like teething rings, strollers, water bottles, etc. You get the idea.
The point I'm trying to make is that Beyoncé's twins are like, 1-second-old, and they're already worth more than my entire life.
For the last few months, Beyoncé blessed Instagram by posting gorgeous pregnancy photos. Her floral pregnancy announcement became the most-liked Instagram post of all time, and throughout the rest of her pregnancy she posted enough pictures of her pregnancy fashion to fill an entire photo album.
God, I love this woman so much. Wait, no, let me correct that sentence.
This woman is my God.
Congratulations, Carter family. I only hope to one day make eye contact with you. I will surely ascend into heaven afterward.