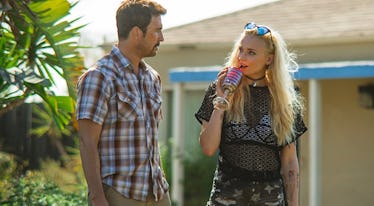 Sophie Turner Is A Long Way From Westeros In The Trailer For Her Creepy Thriller 'Josie'
Screen Media Films
This is not the Sansa Stark that we all know! Sophie Turner is flipping her famous Game of Thrones role on its head in the first trailer for her creepy new thriller Josie. If you have ever wondered what Sansa would sound like with a Southern drawl and what she'd look like with a full sleeve of tattoos, then this is the movie for you. The trailer for Josie shows an intense new side of Sophie Turner, and it's one that Game of Thrones fans haven't seen before.
Sophie Turner stars in Josie as the title character, a high school student who stirs up local gossip when she arrives in the small Southern town of Huntsville. As the trailer shows, Josie lounges by the pool at a motel in town and attracts the attention of a mysterious loner named Hank (Dylan McDermott), who lives at the motel. Hank gets jealous when he sees Josie hooking up with a punk kid named Gator (Daeg Faerch), and despite their dramatic age difference, begins to grow closer to Josie. Both Josie and Hank are also hiding dark pasts, which the trailer obviously does not reveal.
Josie offers a major departure for Sophie Turner from the role that has come to define her career up to this point: the politically conniving eldest Stark sister Sansa on HBO's Game of Thrones. Turner trades in Sansa's British accent (also her natural accent) for a lilting Southern inflection, and wears cut-up rock tees and chokers instead of Sansa's long robes and gowns. But there actually are some similarities between Sansa and Josie: Both characters seem skilled in manipulation, and they also have really terrible taste in men. Check out the full trailer for Josie below:
Josie will kick off a big year for Sophie Turner, who is making a major play as a film star in 2018 as Game of Thrones nears its final season. Turner has five movies slated to come out this year: Josie, the biopic Girl Who Fell From the Sky, the indie drama Alone, the sci-fi romantic comedy Time Freak, and then the big-budget superhero headliner X-Men: Dark Phoenix. Obviously, it's the last one that has the biggest potential to kickstart Turner's career as a movie star. She first portrayed the telekinetic superhero Jean Grey in 2016's X-Men: Apocalypse, and now her character will take a major starring role in the follow-up about Jean Grey losing control of her powers and unleashing her dangerous alter ego Dark Phoenix. X-Men: Dark Phoenix is due out on Nov. 2, but before that Turner will star in Josie next month.
Along with kickstarting her film career, 2018 also promises to be a big year for Sophie Turner's personal life. After a year of dating, Turner and Joe Jonas announced their engagement last October. Although the celebrity couple has not revealed when they are planning to have their wedding, it must be coming up sometime soon, right? I mean, they've been engaged for about four months already, so we can probably anticipate Turner and Jonas tying the knot sometime in 2018... unless they are waiting for Game of Thrones to finally wrap up in 2019, that is. We will just have to keep an eye on Turner and Jonas to see if they reveal any new nuptial plans during this year.
For right now though, Sophie Turner fans can look forward to seeing her in a whole new light in Josie, as the actress transforms into a tatted-up, whiskey-chugging, Southern high schooler with a mysteriously sinister past. The dark thriller will land in movie theaters on March 16.