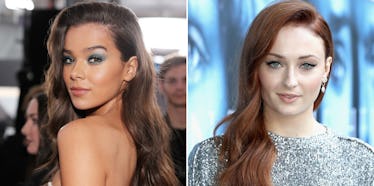 Hailee Steinfeld Just Revealed She Played Matchmaker For Joe Jonas & Sophie Turner
Christopher Polke/Neilson Barnard/Getty Images
Sophie Turner and Joe Jonas keep their relationship super private. That's why when they announced their engagement back in October 2017, the world was like, "Wait, what?! Sansa Stark and a Jo Bro are getting married?!" One person who wasn't surprised about the happy news was Hailee Steinfeld. Y'all, Hailee Steinfeld introduced Sophie Turner and Joe Jonas, and I honestly can't believe we're only just now learning this. Well, she didn't straight-up introduce them, but she was the one who gave Turner the deets about Jonas when Turner texted, asking if he was cool.
In an interview on Nova 96.9's Smallzy Surgery show on Wednesday, Jan. 31, Steinfeld revealed she was the one Turner turned to when she was first interested in the singer and wanted to know more. Steinfeld said, "Oh yeah. I mean, I will say, I did get that text from Sophie being like, 'So tell me about Joe,' and I was like 'Go for it!'" And the rest is history. Steinfeld and Jonas met when she collaborated with DNCE on the song "Rock Bottom." It's not clear when Steinfeld and Turner met, but Hollywood is a small town. Everyone knows everyone. Steinfeld also told the radio station she's super excited that Turner and Jonas are engaged. She said, "I actually just saw them both for the first time since they got engaged; I saw them together. And yeah, I mean, I'm freaking out about it." Um, yeah, I'd be freaking out if two people I introduced ended up getting married, too.
So basically, we have Steinfeld to thank for this stunner of a ring.
Turner and Jonas posted the above photo on their Instagrams to announce their engagement on Oct. 15, 2017. Will you just look at that ring?! Turner posted the photo with the simple caption, "I said yes," and Jonas posted, "She said yes." Simple and to the point. I like it.
One of the rare times Turner talked about her relationship with Jonas was in an interview with InStyle in August 2017. In the interview, she said she and Jonas "keep things [in our relationship] pretty private," adding that she found it more comfortable to be with someone who understands the ins and outs (and downright weird things) of show business. She said,
I found it easier to date someone who understands the industry or is in that world. You realize that you're not going to see each other all the time. And you don't feel like a jerk when you're like, 'My publicist says I can't do this…'
While Turner likes to keep things about her relationship on the DL, she's always been super open about her friendship with Game of Thrones co-star Maisie Williams.
The Game of Thrones co-stars have been best friends ever since they first met at the beginning of filming the series, so learning that Williams is one of Turner's bridesmaids sure as hell made me emotional. Williams revealed the news in an interview with RadioTimes, where she was asked if she thought she would be asked to be in the bridal party. And she responded, "I've already got it." Well, that was easy.
Turner and Williams' friendship has been so fun to watch over the years, and they love talking about how much they love each other. In a May 2017 interview with InStyle, Turner said of her bond with Williams,
To have someone who understands what you're going through, who's the same age, who came from pretty much the same background — that is so rare. And we've had the same struggles in terms of dealing with body image and puberty and growing up in the public eye. But I found my strength in her, and I think she found her strength in me.
I love these two so much. Anyways, it looks like Hailee Steinfeld might be able to add "celebrity matchmaker" to her already stacked resume.