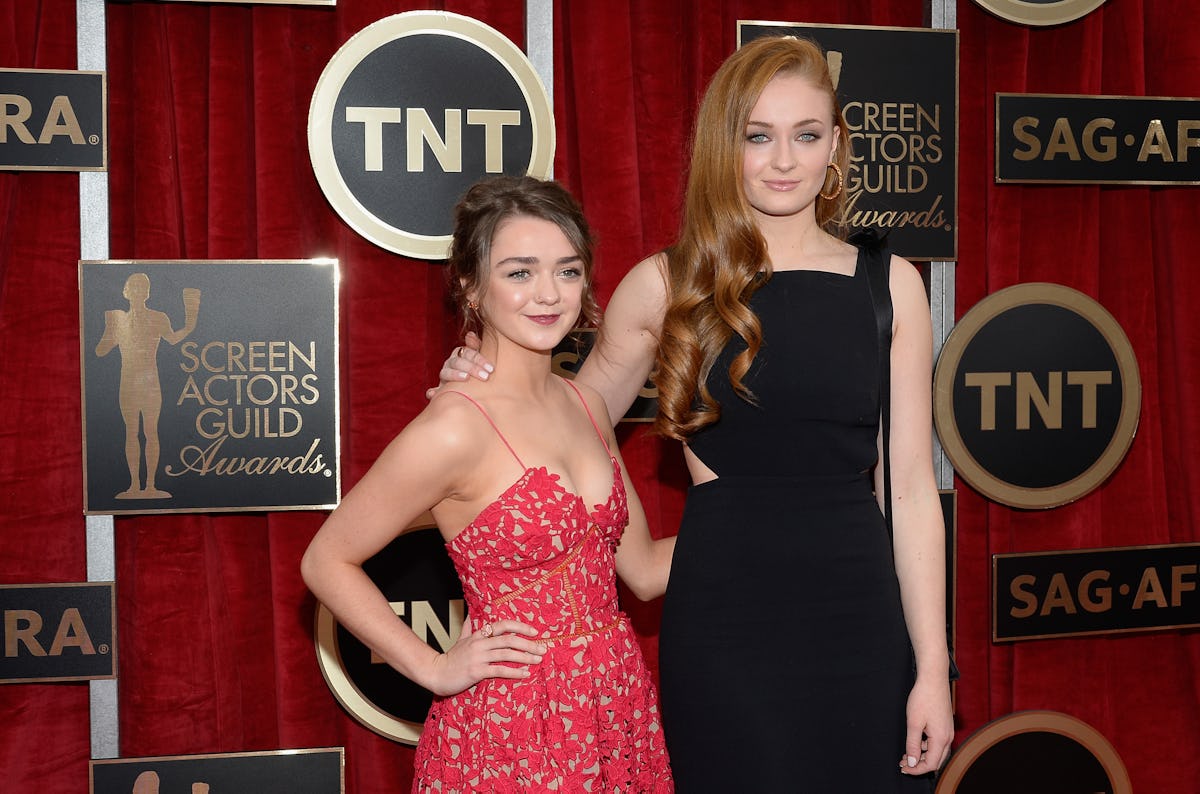 Sophie Turner Put Maisie Williams In Her Wedding Party & I Can't Handle It
Kevork Djansezian/Getty Images Entertainment/Getty Images
I think out of all the recent celebrity engagements, none came as more of a delightful shock and surprise as Joe Jonas' engagement to Sophie Turner. The DNCE frontman and Game of Thrones star haven't yet set a date or really given out any details on their upcoming nuptials, but we do now have a tiny bit more information about who is expected to be in the bridal party. We now have confirmation that Maisie Williams will be Sophie Turner's bridesmaid. Ugh, can this friendship seriously get any cuter?
Your favorite, adorable besties working in the entertainment industry have just taken their friendship up a notch, as we've now gotten confirmation from Williams that she has been selected as one of Turner's bridesmaids for her upcoming wedding to Jonas, according to ELLE. In a Jan. 21 interview with RadioTimes.com, the Game of Thrones actress was asked if she would be a bridesmaid, to which she confidently answered, "I've already got it." You sure do, Maisie.
If you're a GoT fan and follow the actors from the show, you know just how close Williams and Turner are. The two actresses play on-screen sisters, with Williams portraying Arya Stark and Turner playing older sister Sansa Stark. And by the way they behave off set, it seems as though they consider themselves real-life sisters as well. The two are regular features on each other's (amazing) social media accounts and are self-declared besties, so it's no surprise that Williams has confirmed she'll be a part of the bridal party. But that doesn't been that this announcement is less exciting by any means.
Jonas and Turner announced their engagement via Instagram in October 2017. The engagement came as a surprise to many seeing as the two have only been dating publicly for just about a year at the time of their engagement. The first to share the news was Jonas, who posted his photo of their hands atop each other, with Turner sporting her new ring and the caption simply reading "She said yes." Turner posted the same image with a similar caption reading "I said yes."
And now we've got the first details on their wedding plans and Williams is a confirmed bridesmaid. Not to my surprise. I mean, just hearing how highly Turner has spoken of Williams is proof of how incredibly strong bond their bond is.
She said in an interview with InStyle back in May 2017,
To have someone who understands what you're going through, who's the same age, who came from pretty much the same background — that is so rare. And we've had the same struggles in terms of dealing with body image and puberty and growing up in the public eye. But I found my strength in her, and I think she found her strength in me.
I mean, if that doesn't scream "sister bond" I don't know what does.
The two also gravitate towards each others' characters during Entertainment Weekly's Game of Thrones season preview rollouts. In last year's ET preview, when asked who they think their TV father Ned Stark would be most proud of, both Williams and Turner chose each other. And in the 2016 season preview when asked who would be the best Queen of Westeros, the duo also chose each other. Said Turner, "Arya, just because Maisie's my princess and she's probably the only sane one out of all of us or myself." I simply cannot handle these two.
Williams also dished out some new details on when we might expect the wedding to actually happen.
Don't expect to see wedding photos come out anytime soon, because it looks like Turner and Jonas are waiting until the final season of GoT is wrapped to fully take on planning the event. In that same interview, Williams said, "We're waiting until this season's done until we get into any of that but I think she's already let her little heart wander and imagine." It makes sense to delay the planning given how important this final season is, so this engagement might last a little while.
So while the wedding may be a ways away, any details we can get about Turner and Jonas' plans will surely be devoured. And despite the fact that I already knew for sure that Williams was going to be a part of this milestone life event, it makes me so happy to read that it has officially been confirmed.
Congratulations again to the happy couple — I can't wait to see the pictures!