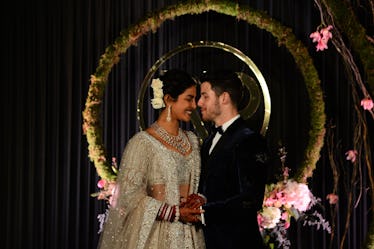 Your Wedding Will Be Most Like This Jonas Brother's, Based On Your Zodiac Sign
Though it's not even close to the year 3000, as of May 1, 2019, all three Jonas Brothers switched their purity rings to wedding rings — and of course, one sour cherry Ring Pop. Throughout their careers, the brothers have developed their own individual styles. And the contrasting nature of each Jonas Brother wedding is perhaps the ultimate highlighter on the differences between the brothers and their now-wifeys.
From a seemingly impromptu Vegas party with a literal Elvis impersonator and aforementioned Ring Pop wedding bands, to a pair of lavish cross-cultural ceremonies — each Jo Bro wedding really took on a life of its own. And in keeping with current trends, unpacking the astrology behind each Jonas nuptial is a topical and colorful conversation. Though astrology can't guarantee everything, it can be fun to see how it plays into our tastes and preferences. And if you've ever wondered which Jonas Brother's wedding yours is likely to resemble, based on your sign — you, my friend, have come to the right place.
It's clear that each of these three weddings represents a different astrological quality: cardinal (Aries, Cancer, Libra, and Capricorn), mutable (Gemini, Virgo, Sagittarius & Pisces), and fixed (Taurus, Leo, Scorpio & Aquarius).