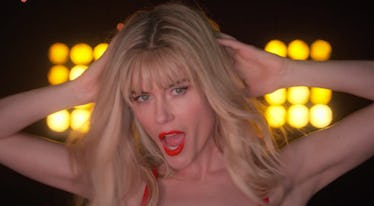 The 'Jessica Jones' "I Want Your Cray Cray" Music Video Is Here & It's Amazing – EXCLUSIVE
Netflix
Season 2 of Jessica Jones included some seriously messed up family drama, a glimpse into how Jessica got her powers, and a more in-depth look into the past lives of the show's main characters than ever before. Oh, and of course, who could forget Trish Walker's short-lived pop music career? We got a taste of Trish's debut single in Season 2's flashback episode, but now fans can check out the full Jessica Jones "I Want Your Cray Cray" music video, which comes complete with pop-up video facts that present both funny and insightful details about Trish's past life.
Trish Walker's pop single "I Want Your Cray Cray" was one of the most memorable moments of Jessica Jones Season 2. In a flashback episode sharing its name with the song, fans saw a time when Trish and Jessica were divided. Still trying to capitalize on her Patsy fame, a 20-something Trish bought out a nightclub for the premiere of her new music video. Obviously, it is not exactly Jessica's scene, but what really drives a wedge between the sisters is Trish's growing drug problem, which becomes scarily evident at the club.
Although Jessica clearly hates "I Want Your Cray Cray," even she has to admit that it is a damn catchy tune. Fans only saw a few seconds of Trish's music video for the song in Jessica Jones, but now you can watch the entire video. Check it out below:
One of the best parts of the full "I Want Your Cray Cray" music video is the '90s-tastic pop-up facts that accompany Trish Walker's choreography. Sadly, these pop-ups aren't really a thing in music videos today, but they fit in perfectly with "I Want Your Cray Cray" since Trish released the song years ago, presumably in the late '90s or early 2000s when pop-up videos were all the rage.
But these pop-up facts are more than just a fun bit of nostalgia, they also give fans some more insight into what was going on in Trish's past. The music video reveals that only four days had passed in the flashback episode (Episode 7 of Season 2), between when Trish premiered her music video and when Jessica convinced her to check into rehab for her drug addiction. That abrupt check-in to rehab also led to over 100 lawsuits against Trish from concert venues, since she was apparently scheduled to go on a massive tour at the time. And then there's yet another unsavory revelation about Trish's terrible mom/manager Dorothy, when a pop-up reveals that both Trish and her mom slept with the video's male back-up dancer. Dorothy told him that she was Trish's sister.
Along with these illuminating details about the highs and lows of Trish Walker's fall from fame, the pop-ups also add some humor to the music video. We learn that "I Want Your Cray Cray" was originally less sexy and more campy, with Trish and the rest of the dancers dressed as crayfish (get it?). We also find out that Trish starred in a movie, although it was only one, and given that it is entitled Snatch and Grab, it is probably safe to assume it didn't get much Oscar buzz.
Overall, the "I Want Your Cray Cray" music video is a really fun and creative way to entertain fans of Jessica Jones while also adding a little bit of flavor into the show's universe. And since it definitely looks like Trish Walker is going to be an even bigger character in Jessica Jones Season 3 after that cliffhanger ending, maybe we will be treated to another one of Trish's past pop songs when the show returns.