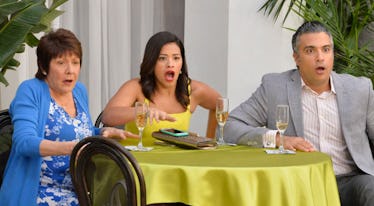 Watch The 'Jane The Virgin' Cast Find Out About That Massive Finale Twist & Freak Out
CW
Thank god Jane the Virgin airs on Friday nights, because I honestly needed the entire weekend to recover from that out-of-left-field Season 4 finale twist! Like, seriously, Jane the Virgin fans already know that this show takes dramatic twists up a notch, but that reveal in the final minute of the season finale was just next level. And it wasn't just shocking for viewers; the cast and crew were just as gobsmacked as the rest of us. You can actually see the Jane the Virgin cast's reaction to the Season 4 finale twist in a new behind-the-scenes video, and it is so adorable and heartwarming.
Major spoiler alert: Don't keep reading if you have not watched the Season 4 finale of Jane the Virgin yet. OK, so if you're still reading, then that means you know what happened, and why every Jane the Virgin fan has been in a state of stunned shock for the past few days, right? Cool, then we can just talk about is openly: Michael is back!? Honestly, I'm really not sure which punctuation mark to end that sentence with. I'm excited, and cautious, and relieved, and curious, and worried, and on-edge, and totally over-the-moon, all at the same time somehow.
It was a totally unexpected twist after we all saw Michael die during Season 3. A big part of Season 4 (which jumped ahead three years into the future after Michael's death) was about Jane moving on from her grief, and she ended up finally getting back together with Rafael in the last few episodes of the season. But at the very last minute of the Season 4 finale, Rafael reveals to Jane that Michael is (somehow) still alive. What!? How!? What's going on!? If you're anything like me, you were screaming things like that at your TV screens when that big reveal happened, and it is kind of fun to know that the whole cast was doing the same thing when they all found out about Michael's surprise return at their table read for the finale.
Check out the joy-filled video below of the Jane the Virgin cast finding out that Brett Dier (the actor who plays Michael) was returning to the series:
Awww, you can just feel the love! Clearly, everyone is super excited to have Brett Dier back for Season 5, especially since the show's EP and Gina Rodriguez confirmed it will be the final season of the series. But for fans, it kind of feels like a mixed bag, because Michael's return raises a ton of questions and could potentially spell big trouble for Jane and Rafael.
Obviously, the immediate question is what this could mean for Jane and Rafael's relationship. After all, Jane chose Michael before, and the main reason she steered clear of a relationship with Rafael (or anyone else) after Michael's death was because she was still grieving her husband. It took years, but Jane and Rafael finally did rekindle their romance towards the end of Season 4 — Raf was even about to propose to Jane — but now that Michael is back, he could throw a wrench into the whole relationship.
But aside from romance, the other big question is about Michael's implied connection to Sin Rostro. She is the one who told Rafael about Michael being alive: How did she know that? Also, showrunner Jennie Snyder Urman cautioned fans that this may not even be Michael in an interview with Variety. We know that Jane the Virgin loves a twin twist, and also that Sin Rostro is a master at transforming faces — is Michael actually back or is it just some trick?
Sadly, we are going to have to wait until Jane the Virgin Season 5 premieres to find out the truth.