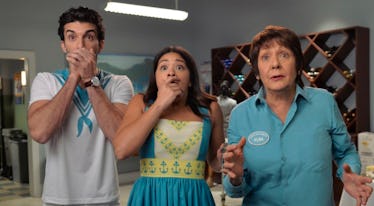 Gina Rodriguez Just Revealed 'Jane The Virgin' Is Ending Much Sooner Than You Think
CW
Jane the Virgin has been serving up gasp-worthy, twist-filled telenovela drama for four seasons now, but it sounds like fans are going to have to say goodbye to the Villanueva family sooner than we thought. Although the family sitcom has become a critical darling and fan-favorite series, star Gina Rodriguez may have spilled the beans that Jane the Virgin will be ending after Season 5 — the show is currently nearing the end of its fourth season.
The CW has yet to make any official announcements about the future of Jane the Virgin, but Jane herself — Gina Rodriquez — seems to have just let the news slip that the next season of the series will be its last. During a panel discussion on Sunday, Rodriguez spoke about her first time directing an episode of Jane the Virgin this season, and said that she would like to "do more [directing] next year — in our final season." Excuse me? Final season!? That is news to us!
Although Jane the Virgin remains beloved by critics and fans in its fourth season, it does sort of seem like the show is nearing its end. The episode counts of each season have been consistently falling — starting at 22 in Seasons 1 and 2, then down to 20 in Season 3, and 17 in Season 4 — and it is undoubtedly difficult on the writing team to keep churning out the show's requisite stream of outlandish, soap-opera twists. The currently airing Season 4 already started off with the death of a main character and a three-year time jump into the future... plus, the show's title is no longer even accurate, since Jane lost her virginity last season.
The big reason that Jane the Virgin is likely coming to an end, though, is the growing star power of Gina Rodriguez. Prior to Jane the Virgin premiering in 2014, Gina Rodriguez made a career out of roles in indie films like Sleeping with the Fishes and Filly Brown, along with guest parts on network shows like Happy Endings and The Mentalist. But after the first season of Jane, Rodriguez took home a Golden Globe award, and began starring in a lot more high-profile movies. In 2016, she co-starred with Mark Wahlberg in the disaster flick Deepwater Horizon, and she is currently showing her versatility by playing a role completely opposite of Jane Villanueva in the sci-fi drama Annihilation. She is also set to voice Carmen Sandiego in an upcoming Netflix series about the iconic, globe-trotting criminal mastermind.
Aside from her burgeoning acting career, Gina Rodriguez is also expanding her talents behind the camera. She is currently executive producing two new series for the CW: a drama about friendship among four feminist millennials called Femme, and a dramedy about a high schooler who finds out he is undocumented called Illegal. Rodriguez is also developing a CBS drama called Have Mercy about a Latina doctor who opens a makeshift clinic in Miami after she discovers she is unable to openly practice medicine in the United States, and she has also signed on to produce the upcoming rom-com movie Someone Great, which she will also star in.
With that immense change in her career from the start of Jane the Virgin to now, it is totally understandable that Gina Rodriguez may no longer have as much time to devote to starring in a 20ish-episode, hourlong dramedy every year. Although it sounds like we will have to say goodbye to Jane the Virgin in 2019, at least we know that we will be seeing a lot more of Gina Rodriguez in movies and TV shows in the future. Plus, we still have an entire farewell season to look forward to!