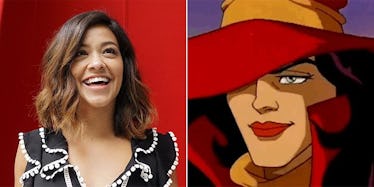 Gina Rodriguez Will Play Everyone's Favorite Art Thief In 'Carmen Sandiego'
REX/Shutterstock/PBS
If it weren't for Carmen Sandiego, would any American '90s kid have any idea where Tokyo is or that it's referred to as "the land of the rising sun?"
Or that in Indonesia they use rupiahs as currency?
Honestly, I'm lucky I can find myself on the "you are here" map in a mall, so I give a lot of credit to the international art thief.
Thankfully, the next generation will have some knowledge of geography because "Where in the World is Carmen Sandiego?" is coming back in an animated Netflix reboot, and actress Gina Rodriguez will play her.
According to The Tracking Board, the "Jane the Virgin" star will voice the iconic thief in 20 episodes.
The episodes have, allegedly, already been ordered and will probably be as educational as the PBS show and the computer game that came before that.
The debut has yet to be confirmed by Netflix though, but if this isn't true I swear I'm gonna punch the Mona Lisa in her smug face.
It's believed that the new Netflix show will draw more inspiration from the computer games rather than the TV '90s game show and cartoon series, who's character was voiced by "West Side Story's" Rita Moreno (who is also one of twelve people to have won an Emmy, Grammy, Oscar and a Tony. A true EGOT-er).
This reboot won't be Gina Rodriguez's first voice-over project though.
The actress lent her voice to two animated movies that are coming out later this year, "Ferdinand," which is based on the children's book "Ferdinand the Bull," and "The Star," which is a comedy based on the Biblical story of Christmas.
And now, if you will excuse me, I'll be over here trying to get the theme song "WHERE IN THE WORLD IS.... CARMEN SANDIEGO" out of my head, where it will stay for the next three weeks.
Citations: Report: Gina Rodriguez Cast in Carmen Sandiego Animated Series for Netflix (Paste Magazine)