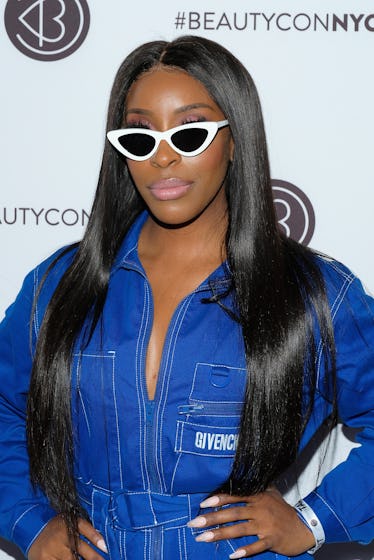 The Jackie Aina x Too Faced Foundation Already Sold Out In Its Darkest Shade
Matthew Eisman/Getty Images Entertainment/Getty Images
Since the launch of Fenty Beauty's 40 shade Pro Filt'r Foundation, it seems as though many other beauty giants have been jumping to increase their shade range. Aside from Lancôme, which offers Le Teint Particulier, a custom foundation that can make up to 8,000 different shades, getting more brands on board with creating products that can suit all skin tones — especially the darker ones — seemed like a bit of an uphill battle. YouTuber Jackie Aina has long been vocal about the beauty industry's lack of inclusive options. So the fact that Jackie Aina x Too Faced foundation in "Ganache" — the darkest shade offered in the line — has already sold out after only a few days on the shelf comes as no surprise.
If nothing else, this proves that yes, women of color do buy and enjoy makeup. And if brands are willing to cater to us and include ethnically diverse women as part of the development process, we'll come out to support in numbers.
"Brands will maybe get backlash for doing certain campaigns that maybe didn't resonate with women of color too nicely," Aina recently told Bustle. "You can avoid instances like that by giving us a seat at the table to make sure we are visible behind the scenes and making sure that everyone is represented fairly. I think if anything it just speaks to being represented fairly and we can't do that if someone else is writing the story for us."
The Born This Way Foundation line already existed prior to Aina's nine-shade expansion of the collection, and according to Glamour, it took the digital beauty guru around two years to perfect her additions.
"Our darkest shade, Ganache, kept pulling a little too red," the 30-year-old told the publication. "I remember us going through multiple tries and it kept looking completely different from what I wanted. It ended up beautiful, though. It's unlike anything I saw on the market."
And it looks like the effort was all worth it. Because so far, the reviews of the expansion have been phenomenal. Cocoa Swatches, an app and social media platform that provides makeup swatches for underrepresented skin tones, praised the new shades in an Instagram post.
"We love a shade range that is inclusive and actually has realistic, **wearable** deeper shades!" the group captioned the photo. "No gray undertones ova here!"
On the Too Faced website, one person labeled her review "YESSS AUNTIE JACKIE," and went on to say, "It's so impossible to find deep shades with a golden undertone. Most are red. I'm so excited for this shade extension I can't even function properly."
However, although we're seeing many makeup lines benefit from offering deeper foundation options that work with a variety of undertones, the work shouldn't just stop there. There are a number of other makeup products, like lipstick for example, that aren't always universal. And Aina agrees.
"Inclusion doesn't stop at foundation, though, and that's what I hope all beauty brands can take away from this movement," she said in a piece for Glamour. "Can I use your lipsticks? Are your eyeshadows pigmented enough to show up on my skin tone? Do you have blushes that work for me? For so many brands, I still can't use anything; it's literally only for light skin. We still have work to do, and I won't stop talking about it until it's done."
After the massive success of Jackie Aina x Too Faced, as well as Fenty Beauty, I'm hopeful that more brands will move toward not only creating foundation that works for everyone, but a full range of makeup wearable on darker skin tones as well. It's 2018, and everyone, regardless of their skin color, should be able to enjoy everything cosmetic brands have to offer.