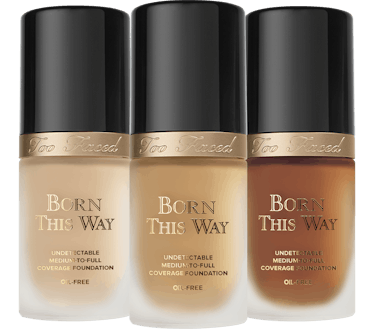 Too Faced & Jackie Aina Are Collaborating On This Huge Update To "Born This Way" Foundation
Too Faced
While going through my daily perusal of YouTube, I came across beauty star Jackie Aina's latest video. I expected to be entertained, but I wasn't prepared to learn that she's launching an extended shade range of Too Faced's popular "Born This Way" Foundation (!!!). But when does Jackie Aina x Too Faced foundation drop? Jackie, Jackie, Jackie, Jackie has an announcement, and I'm not ready for it!
I don't have many vices (or many that I'm willing to admit) but my YouTube addiction is pretty bad. I don't even have a TV in my room, because watching YouTube Get Ready With Me tutorials, Outfit of the Day videos, and vlogs are how I like to wind down at the end of the night. You can understand my excitement when I settled down (with a cup of herbal tea no less) to watch Aina beat her face. What I thought would be a simple video turned into a teaser that I just can't let go. Jackie Aina X Too Faced are collaborating to drop an extended shade range of Too Faced's Born This Way Foundation ($40, Sephora), and it's coming "soon, soon, soon."
YouTubers have mastered the subtle art of dropping just enough information to get their subscribers excited, but not enough to spoil the full surprise. It's commonplace to hear a YouTuber hint that "something is in the works," but when it's a beauty guru, the stakes are higher. Aina (aka La Bronze James) started out this fated tutorial like every other video, then said something that felt like an airhorn blowing off mid-instruction.
Too Faced's Born This Way Foundation, $40, Sephora
I can't show you the foundation that I'm using—well, technically I can...It's Too Faced Born This Way. But it's my new shade — that I created."
It was in that moment that I lost all ability to breathe.
The Too Faced Born This Way Foundation ($40, Sephora) is a best-seller with over 28,000 reviews on Google and if that wasn't enough, over 6,000 reviews, a 3.8-star rating, and 220,000 hearts on Sephora's website. It's the holy grail of foundations. Fans obsess over it because the oil-free formula is infused with coconut water (which replenishes skin moisture levels), Alpine rose (which brightens skin appearance and promotes elasticity), and hyaluronic acid (which provides weightless hydration). Did I forget to mention it's vegan and cruelty-free?!
Personally, I don't think there's a G.O.A.T of foundations, because everyone has their own unique needs and desires. With that said, this foundation is arguably in the top ten, maybe even top five. So why would the brand collaborate with Aina to expand the shade range, if it's already selling off the shelves, interwebs, and the beauty black market? Inclusivity, my friends!
Too Faced's Born This Way Foundation, $40, Sephora
The most universal gripe with the Born This Way Foundation is its limited spectrum of shades. The range features 24 foundations, but the six deep colors are lackluster at best. The Too Faced team has apparently seen and (most definitely heard) the demands for more color options, and they're delivering in a big way. Taping Aina was a power move for the brand, who voiced in a YouTube video that she could never find a color match.
Before, if I wanted to make [the foundation] work, I could make it work. I was using Mahogany. It was the first closest shade to me that came out. I wasn't happy with it because it was way too red. Now that I have this new shade, for the golden realness, it does exactly what I want it to do in a foundation. It's got the perfect amount of coverage. It lets my skin breathe.
Aina isn't the only one excited about the collaboration. Too Faced founder Jerrod Blandino took to social media to convey his enthusiasm over the coming foundations.
This means the world to me, it's so important to me that everyone feels included and knows they're seen and loved; and this is the perfect partnership to do just that! I adore Jackie and am so proud she's going to make our TF world even more beautiful!"
I'm not crying, you're crying!
Too Faced and Jackie Aina, I'm so ready to drop all of my hard earned money on new foundation that matches my skin tone, so you need to release the launch date ASAP. I can't wait to look in the mirror and say "Baby, you were born this way."