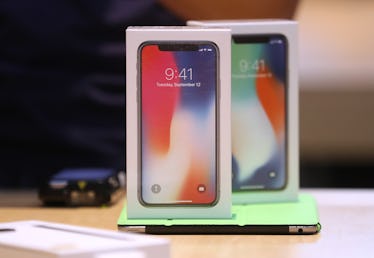 The iPhone X Might Already Be Getting Discontinued, So Grab It While You Can
Justin Sullivan/Getty Images News/Getty Images
It is a sad time for iPhone loyalists. If you're anything like me and have been waiting for the prices to go down on the iPhone X before you buy it, both of us might be out of luck pretty soon. There are rumors that the iPhone X will be discontinued, so if you're gonna grab it, you better get it while there's still a chance.
On Friday, Jan. 19, Apple analyst Ming-Chi Kuo of KGI Securities reportedly predicted that the original iPhone X would be discontinued following the release of the device's second generation later this year, according to MacRumors. The rumored action would happen in summer 2018, before the next generation of iPhones roll out and just a year after the X was released. The reason? It apparently just wouldn't be cost effective for Apple to sell the old X for cheaper than the new generation, as is their tradition, since it would cut into sales of other models. The prediction said,
iPhone X would hurt product brand value & lineup of 2H18 new models if it continues to sell at a lower price after 2H18 new models launch ... to sell iPhone X at a lower price may have a negative impact on shipments of the new 6.1" LCD iPhone in 2H18. Thus, we estimate iPhone X will reach end-of-life (EOL) around the middle of 2018.
In short, if you want to get the original iPhone X, you better get on that before summer. Elite Daily reached out to Apple for comment on the rumors, but did not hear back by time of publication.
According to the report, the iPhone X hasn't been as big of a seller because of the "notch." While it might have seemed like a good idea to premiere a phone with an edge-to-edge display that takes up the entire device while making room for the camera, speakers, and censors, there's been tons of criticisms for it for its ugly layout, the removal of the home button, and other issues.
The prediction comes as a total shock to Apple addicts.
Prior to the iPhone X's release on Nov. 3, there was complete commotion over getting the new device (like every iPhone release, TBH). People camped out at stores to grab the phone, others scrambled to place their pre-orders, and some took to sites such as eBay to place overpriced bids to get their hands on the exclusive device first. People just had to have the iPhone X for its futuristic features, including its all-glass design, the OLED screen, the critically-acclaimed Portrait Lighting feature and Face ID — even though it was priced up to $1,000.
In a press release from the announcement of the iPhone X on Sept. 12, Apple's Chief Design Officer Jony Ive added that the iPhone X marked a "new era" for iPhones. He said,
For more than a decade, our intention has been to create an iPhone that is all display. The iPhone X is the realization of that vision. With the introduction of iPhone ten years ago, we revolutionized the mobile phone with Multi-Touch. iPhone X marks a new era for iPhone — one in which the device disappears into the experience.
Philip Schiller, Apple's senior vice president of Worldwide Marketing also shared that the device was the "beginning of the next 10 years for iPhone. He said,
iPhone X is the future of the smartphone. It is packed with incredible new technologies, like the innovative TrueDepth camera system, beautiful Super Retina display and super fast A11 Bionic chip with neural engine. iPhone X enables fluid new user experiences — from unlocking your iPhone with Face ID, to playing immersive AR games, to sharing Animoji in Messages — it is the beginning of the next 10 years for iPhone.
Given their statements, it's just mind-boggling that the device could be gone forever. I mean, Apple never discontinues devices. In fact, the iPhone 4 just stopped receiving software updates in 2016. And you can still find other models released after it for major discounts on Apple's website or through your phone carrier. So it's just weird that it might stop the production of the iPhone X just one year after it debuted.
Maybe Ive and Schiller have something better up their sleeves for the next iPhone roll out. I guess until then we'll just have to play on our outdated iPhones and reminisce on what could have been.