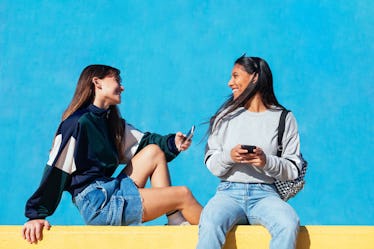 The Importance Of Being The Cool Cousin Is Much More Than A Label
Somewhere down the road, or even right now, you may be called the "cool" cousin. You'll be at a family party, playing with the photo filters on your phone and showing your younger cousins some dance moves. One of them will look up at you and say something like, "You're really, really cool," and your self-esteem will skyrocket. You'll feel like you're on top of the world — like you could start a new fashion trend, post a picture on social media and get thousands of likes, or rock a stage like Hannah Montana. But, you should know this: The importance of being the cool cousin is much more than a label or having a closet full of the trendiest clothes. Hang tight, I'll tell you why.
Before I get into it, though, I want you to think about when you were a little kid. Take a walk down Nostalgia Lane, and remember what it was like to be the smallest person in the room. At the time, you probably looked up to one of your older cousins, or an aunt who had been everywhere in the world. To this day, you swear that a spotlight shined down on them every time they talked, laughed, or made a simple joke.
Now, snap back to reality and realize that you're that person for your cousins. You're considered "cool," and that's a super important label for these five reasons and many more.