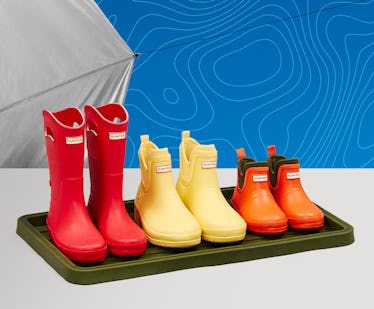 Photos Of The Hunter Boots x Target Collection Are Finally Here & Every Item Is So Cute
I think everyone who has ever lusted over the world's trendiest brand of wellies freaked when it was announced they'd be collaborating with a mega retailer on a line of affordable products earlier this month. And now, the wait to see what said products would be is over. The Hunter x Target lookbook is here and it's everything and more than you could have hoped for — trust me.
Hunter boots unquestionably became the rain-proof footwear du jour when supermodel Kate Moss wore a pair of their classic tall style to Glastonbury back in 2005. After that, everyone attending a springtime festival seemed to arrive to the event with a pair packed in their bag, because they straddle the line between practical and stylish. As noted in a press release by Hunter, "As a brand, we have such a strong connection to festivals. Kate Moss wearing her Hunter boots to Glastonbury in 2005 was a defining moment for the brand. Our boots, outerwear and backpacks are now worn at festivals across the globe, come rain or shine."
And not just festivals, either. The brand has grown to be a cool sartorial mainstay both in and outside of sonic events. Take a trip to New York City anytime between October and April and you're bound to see innumerable pairs. The thing is, they aren't the cheapest of boots. That is, not until now, thanks to Hunter's upcoming capsule collection with Target, which drops April 14th. Offering boots as well as dresses, bags, shirts, pants, coats, sandals, umbrellas, and more for men, women, and children, it's just about as all-encompassing as it gets. The kicker? All 300-plus items retail for under $80, with most items being under $30. Every boot within the collection will be $40 and under. Compared to their usual $100-plus price tag, that's a steal.
Today, images of the entire collection have finally arrived and if you're into streetwear, the athleisure trend, or cute clothes that are also comfy (so, all of us), then you're going to love everything you see. Check out some of my favorite snaps from the lookbook below, with tips on how I'd style certain pieces with items I already have in my wardrobe. The collection is versatile AF so something from it will definitely blend seamlessly with your aesthetic.
Can you picture little Parisian school kids wearing mini versions of these sleek backpacks and looking chic as all get out? Or is that just me? Either way, I want one to pair with baggy denim, a crewneck sweater, and white sneakers.
The blue co-ord is how to do athleisure 101. I love the sporty jacket's color blocked details and how comfy the shorts look. And the orange striped trench? The perfect spring outerwear ever. I'd pair it with a colorful midi sundress and white heeled booties.
If you've been to a camping music festival that doesn't allow cars on the campgrounds, then you know how vital a good wagon is. This one would certainly come in handle to haul tents, bags, canopies, and chairs.
The black and white striped pullover reminds me of a borrowed-from-my-boyfriend shirt, but better. I'd pair it with a black denim mini skirt, black heeled booties, and bright red lip. That olive bomber, though? I'd pair it with literally anything.
Wellies AND poolsides? Spring shoe shopping done.
I lived in rainy/ snowy New York for eight years and never bought the see-through umbrella I always wanted. Don't make my mistake by missing out on the most practical rain shield ever! That fanny pack also looks like prime fest gear.
Any opportunity I get to pass a giant sweatshirt off as a dress is an opportunity I will take. With sneakers, a topknot, and metal earrings, it would make the perfect weekend look.