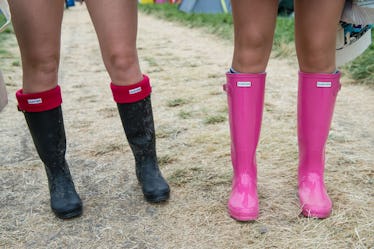 Hunter Boots Are Coming To Target Just In Time For Festival Season & The Price Is Pure Music
Ian Gavan/Getty Images Entertainment/Getty Images
Music lovers, rejoice! Your favorite brand of wellies to dance in have partnered up with a major retailer to create an all-new collection that's guaranteed to sell out fast. When do Hunter Boots x Target drop? Just in time for festival season, because a little rain and mud should never ruin an epic party, amiright?
I remember getting my first pair of Hunter boots in college. They were having a major moment and all of the girls whose style I envied owned a pair. I bought the traditional tall Wellingtons in black and, seeing as I was buying them during winter, I also got a pair of boot socks. (Highly recommend if you live in a state where the temps drop.) Not to be dramatic, but those boots saved my life. I didn't know how brutal New York winters were until I was in the midst of one, and would have slipped and fallen about a thousand times without those boots. They have awesome treads, aren't overly bulky, and are guaranteed to keep water, snow, ice, what have you away from your feet. Unlike other rain boots, they are also slightly flexible, so they don't feel overly clunky or hard to walk in.
All of these qualities make Hunter boots the best rainy festival footwear around. I speak from experience when I say that the short Wellingtons are the way to go, as they still keep moisture out and are even easier to move around in than the tall ones. I wore them for three days straight when I went to Mysteryland three years ago, and without them would have had way less fun getting down in the mud. It rained every single day and the once-beautiful grassy areas in front of stages quickly turned to sludge pits.
Hunter boots have a history as being trendy and practical festival wear, too. In the Target x Hunter press release, Alasdhair Willis, Hunter's creative director, notes, "As a brand, we have such a strong connection to festivals. Kate Moss wearing her Hunter boots to Glastonbury in 2005 was a defining moment for the brand. Our boots, outerwear and backpacks are now worn at festivals across the globe, come rain or shine."
It makes sense, then, that the collaboration would be launching just in time for festival season, on Apr. 14. Featuring over 300 items, the collaboration will offer pieces for men, women, and children, and spans apparel and accessories. From the photos on Target's website that are currently available, it appears jackets, bags, backpacks, pool slides, and raincoats will be included. With most items under $30 and all under $80, it's significantly cheaper than traditional Hunter boots, which typically go for around $100 or more.
"We wanted to pair Hunter's great heritage and iconic style with Target's 'Expect More. Pay Less.' design capabilities," explains Mark Tritton, Target's executive vice president and chief merchandising officer. "Hunter is known for its impeccable design aesthetic, rich heritage and playful spirit, so it was a partnership that excited us from day one."
It excites me too, tbh. I'm going to a few new festivals this year (including a 7-day festival in Budapest during their rainier months!) and want to expand my footwear options to include brighter colors, which it seems like this collection will offer. And considering my new rain coat isn't as rain resistant as I thought (ugh) I'll be looking into a new one of those, too.
If the rate at which Target's past designer collaborations — they've worked with Victoria Beckham, Lilly Pulitzer, and more — sold out is any indication, this one will likely fly off the shelves.