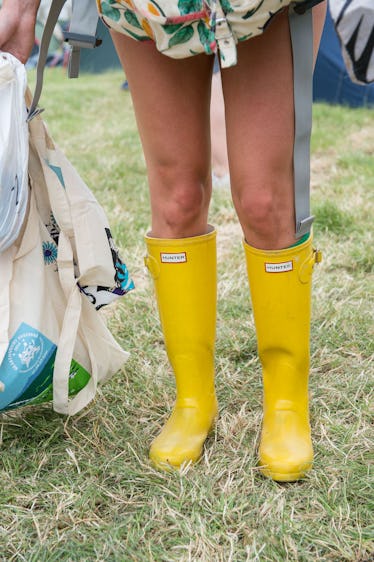 Target Is About To Sell Hunter Boots At More Than Half Off, So Time For Puddle Jumps
Ian Gavan/Getty Images Entertainment/Getty Images
Spring is coming, and I refuse to ruin yet another pair of non-waterproof shoes in lieu of cute, affordable rain boots. And who should solve this problem for me? Target, duh! Target's partnership with Hunter Boots is almost here, and if you're wondering, "How much do Hunter Boots x Target cost?," then you're in for a real treat.
Hunter is a 162 year old British brand best known for their rubber rain boots, or "wellies," as the Brits call them. Target is an über-popular American retailer known for it's wallet-friendly prices. What do the two have in common? Each other! The brands are teaming up to bring affordably priced Hunter boots and other goodies to the American masses and I can't wait. Spoiler alert: the line is both adorable and affordable AF.
Hunter boots would normally cost you about $150, but Target knows how to bring you a banging deal, and they're seriously slashing the prices for these rubber wonders. The collaboration won't only feature rain boots, though. In addition to a range of footwear, you can except to see apparel and other accessories for women, men, and children, as well as home goods and outdoor furniture. Basically everything you need for an epic spring break at broke girl prices.
Both Target and Hunter announced the collaboration on Instagram, Hunter posted, "Coming soon... Hunter for Target! We are very proud to announce an exclusive partnership with @target on a limited-edition spring collection inspired by family, festivals and a love of the outdoors. #HunterxTarget."
The overarching theme of the collection is a push to get outdoors this spring, without fear of ruining your shoes, or having to give up wearing shoes you actually like. Hallelujah!
British supermodel Kate Moss made the boots famous when she wore them to the Glastonbury Festival in 2005. Moss paired them with a (very) short dress and showed that big rubber wellies can actually be chic! Moss also displayed how durable the boots are by traipsing through some intense mud.
The Hunter for Target collection is inspired by Moss' willingness to get a bit muddy, but doing so in style. The line also put some more color into the products. The full line hasn't been released yet, but as of now you can expect to find everything from tall rubber wellies to bright yellow ankle boots, pink and yellow rain jackets, and carry-all bags. Another great thing about Target is that the brand is inclusive AF when it comes to sizes. The clothes from this collaboration will range from XS to 3XL for women and small to XXL for men.
Hunter for Target also promises brightly printed outdoor lounge chairs, a hammock, a cooler, towels, drink koozies, and even games.
Hunter's Creative Director, Alasdhair Willis spoke about his excitement for the launch,
We may be well-known for our iconic Original Wellington (rain) boot, it's exciting to show our breadth of product offerings in our Hunter for Target collection, which includes exclusive versions of original items, from backpacks and packable outerwear to Chelsea boots and pool slides.
OK, I'm going to need those pool slides. Mark Tritton, Target's Executive Vice President and Chief Merchandising Officer also gave some insight into the project, "These limited-time-only collaborations are a fresh way to remind our guests that at Target, there's always more in store."
The Hunter for Target collaboration launches on Apr. 14. Limited-edition Target collections typically launch on Sundays, but this one is hitting stores on a Saturday to give customers even more time to shop. And if you're a Target addict like me and have a Target REDcard, you'll get early online access to the goods on Apr. 7.
But wait, I haven't even gotten to the best part yet: Every single product in the collection is under $80. The prices range from $5 to $80, but most of it will be under $30. Under $30!
As Tritton says, "It's the magic of Target!" Magical, indeed.