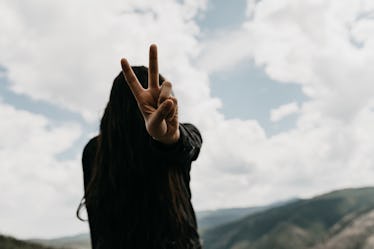 The High School Friend You Should Ex-Communicate In 2018, Based On Your Zodiac Sign
Isaiah & Taylor Photography/Stocksy
Peace out, Girl Scout. Friendships, like relationships, can be hard. Going away to college means that you and your closest friends won't be eating at the same lunch table anymore, or driving around your hometown listening to throwbacks on the reg. Oh boy, you'll miss the memories, and having your besties so close. But on the other hand, sometimes that newfound distance isn't all bad. It gives us the chance to ditch the toxic relationships and the high school friend you should stop talking to, according to your Zodiac sign.
They say distance makes the heart grow fonder. Your real besties will be there throughout your life, no matter where you go. Thank goodness for the modern world, because getting in contact with your crew has never been easier thanks to texting and FaceTime.
College is also a great time to make new friends. The girls who live across the hall, your study buddies from class, and maybe a sorority sister or two will soon reach that level of friendship that you've known at home. You'll find yourself catching them up on years of boy drama, and showing them pictures of your hometown. It's truly a weird moment when one day those two worlds collide.
Unfortunately, we do make friends along the way who aren't meant to be in our photo albums forever. They make an appearance in our lives to teach us valuable life lessons, but bring out the worst in us otherwise. Based on your Zodiac sign, here's the high school friend who just isn't helping you live your best life.