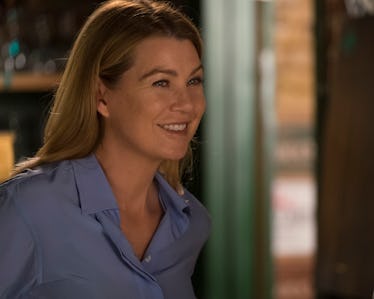 A Wild New 'Grey's Anatomy' Trailer Dropped, So Get Ready For Season 15
ABC
Paging all fans to Grey Sloan Memorial, because the doctors of Grey's Anatomy are back in action. After Season 14 ended with a customary trio of a wedding, pregnancy reveal, and goodbyes, Season 15 isn't quite beginning with life-or-death circumstances as past years have, but we're definitely in store for some drama. Blessing us with an ortho god and Meredith's first major makeout in forever, the Grey's Anatomy Season 15 trailer is exactly what we need before the season premieres later this month.
Premiering on Thursday, Sept. 27, the drama's record-breaking fifteenth season has been billed as the "season of love." Viewers have taken the tagline to mean that Meredith (Ellen Pompeo) finally has her share of romance again, but if you were hoping for a hunky new doctor to breeze through the hospital and catch her attention, that doesn't look like the case. Although the trailer offers a first look at new cast members Chris Carmack and Alex Landi, the clip's biggest bombshell is Meredith's presumed hookup with Dr. Andrew DeLuca (Giacomo Gianniotti). Um, what?
The last we saw of DeLuca's own romantic history, he was toying with intern Sam Bello, who had a fling with him in the past and unexpectedly ended up at Grey Sloan Memorial alongside him. The trailer's glimpse of Meredith and DeLuca suddenly getting it on is a total shock, but as Entertainment Weekly points out, Grey's Anatomy isn't opposed to very realistic dream scenes. Do these two really have sex or is Meredith just letting her mind wander?
While the trailer's watercooler moment is definitely Meredith and DeLuca getting cozy, it also teases out storylines we've been anticipating all summer. Now back in a full-time job at the hospital, Teddy constantly spotting Owen and Amelia drives her to confess to Maggie that she's pregnant with Owen's baby. Carmack's "ortho god" character, reportedly named Link, and Dr. Nico Kim, Landi's character who is the show's first gay male surgeon, are also seen in the trailer, giving a patient quite the eye candy. On the medical side of things, something dangerous seems to happen in the operating room, but we're overdue for improbable medical threats, right?
ABC has also released the titles of the two-hour premiere episode, which are filed under "With a Wonder and a Wild Desire" and "Broken Together." The network's press site describes the first hour as a general check-in with the characters, saying:
The doctors at Grey Sloan Memorial vie for a new position. Meredith is seemingly distracted and struggles to stay focused, and Maggie finds herself the keeper of a big secret while Amelia and Owen try to figure out their relationship. Meanwhile, Jo and Alex's honeymoon doesn't go exactly as planned.
As for the second episode, things are more up in the air. ABC reveals that "Broken Together" introduces the new doctors, while Meredith bonds with a patient and Jo "forms an unexpected alliance." OK, but when can we expect DeLuca to pop up?
It may not be what we were expecting, but Meredith's season of love is definitely starting off strong as this season begins. Season 15 of Grey's Anatomy premieres in a two-hour episode on Thursday, Sept. 27, at 8 p.m. ET on ABC.