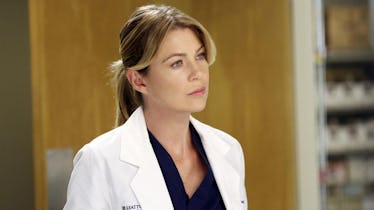 There's A New "Ortho God" On 'Grey's Anatomy' Season 15, So Get Ready For The Season Of Love
ABC
Grey's Anatomy ended their 14th season with two series regulars heading out to pasture. Now, with the 15th season arriving in only a matter of weeks, fans are learning who will be coming to Grey Sloan Memorial Hospital to begin Season 15. If the latest casting announcement suggests anything, romance and music will be in the air for someone on the hospital roster, as Grey's Anatomy casts Chris Carmack as Seattle's newest orthopedic surgeon hotshot.
Chris Carmack is a very hot actor right now, coming directly off a six-season run on the show Nashville, where he played gay country star Will Lexington. Lexington spent his six years on the show coming to terms with his sexuality in a music business where prejudice runs high. The show ended with a suggestion he could still get back together with the love of his life, Zach Welles, played by Cameron Scoggins.
Nashville's series finale just aired this past Sunday, July 26, so Carmack is literally jumping directly from one series to the next. Grey's Anatomy premieres September 27, so it's all of eight weeks off the small screen before he returns, trading out his guitar for a scalpel or two. Before his stint on Nashville, Chris Carmack was best known for the role of high school bully Luke on The OC. He also appeared on Desperate Housewives, Smallville, and the short-lived Related.
According to TVLine, which broke the news:
Carmack, who just wrapped a six-season run on the country-music series, will recur as an orthopedic surgeon who starts slicing and dicing at Grey Sloan Memorial in Season 15. Though we don't yet know the character's name or many details about his life, we can report that he's known as an 'ortho god' and therefore is probably pretty good at his job.
Sounds like a character someone will be falling for, though at this point it's not apparent who. But there's the little matter of this season's theme.
And, because Season 15 is the 'Season of Love,' you can probably put good money on the notion that 'ortho god' might also be positively divine outside the operating theater, too… like, say, in the bedroom?
Chris Carmack isn't the only actor who will be joining the series this coming year. As previously reported, Kim Raver is back this season in the role of Teddy Altman. She's been upped to a series regular after last year's guest stint. And with the revelation of her character's pregnancy at the end of Season 14, rumor is she'll be very close to her due date when the show returns in the fall.
But those aren't the only changes in store. According to Digital Spy, the spinoff show, Station 19, will also play a significant role. Stacy McKee, who created the new show, says:
It was really important that this show worked as a companion piece with Grey's but also had a very distinct voice. It's about being a nice sister to Grey's but a sister with a little bit of edge.
Grey's Anatomy Season 15 premieres with a two-hour episode on Thursday, Sept. 27, 2018 at 8 p.m. ET on ABC. Station 19 Season 2 premieres the week after, on Oct. 4, in the 9 p.m. ET slot directly following.