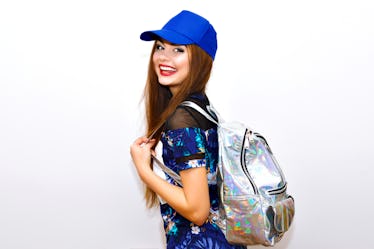 The Girl Who Grew Up In The '90s Knows These 11 Things To Be All Too True
Let me paint you a picture that'll make you feel all the things about being a '90s baby. You're wearing your favorite T-shirt from Delia's that perfectly coordinates with your velvet scrunchie, and you're jamming out to NSYNC's "Tearin' Up My Heart" with your girls as you snack on some Dunkaroos. If that doesn't make you feel any kind of nostalgia, you must not have been a '90s girl — because I'm totally lost in the feels now. Saying I love the '90s would be a total understatement. That excellent decade molded me into the woman I am today, and any other girl who grew up in the '90s knows that there are just some things that are all too relatable about this time period.
We know girl power is real, and the Carlton is always an appropriate dance move. We know that Devon Sawa and Jonathan Taylor Thomas are the true heartthrobs of Hollywood (*swoons*). We also know that Dunkaroos, Fruit Roll-Ups, and Gushers are all extremely dope snack options. These 11 things are all too true, because we grew up during that totally tubular time. If you disagree, just talk to the hand. Everyone else, help me find a time-traveling phone booth like Bill and Ted's that can take us back to when all things were Lisa Frank-colored. Prepare to get incredibly nostalgic.