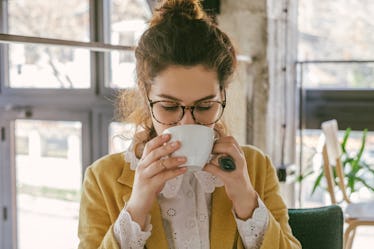 The Girl Who Doesn't Drink Coffee Really Wants You To Know These 6 Things
*Sips tea.* There are so many hot drinks out there — but oh boy, do many people love their coffee. The bitter taste of a brew with just a little bit of milk makes those Mondays so much better, so you're probably shocked that some people just aren't into it. Yes, you heard that right. There's a world beyond your usual beans, and every coffee shop comes with more than just caffeine and macchiatos. You don't have to live this lifestyle, but you also shouldn't assume much about the girl who doesn't drink coffee in your crew. She wants you to know a few things, before you order her that cappuccino on your next coffee date.
You might not be able to imagine your morning without a cup of joe. When you're running late, you skip out on breakfast just so you can make it to Starbucks. The barista already knows your order, and always remembers the caramel swirl. Thank goodness, because you wouldn't have made it until the afternoon when you inevitably run out for more. Can we ever get enough of caffeine?
The girl who doesn't like coffee is thriving in life, and loves her hot drinks just the same. Despite what you may think at first, she doesn't need coffee to get by. She takes her mornings slow, and enjoys every second of her green tea or orange juice on the side of some waffles. At the end of the day, she's feeling pretty great about these six things about herself.