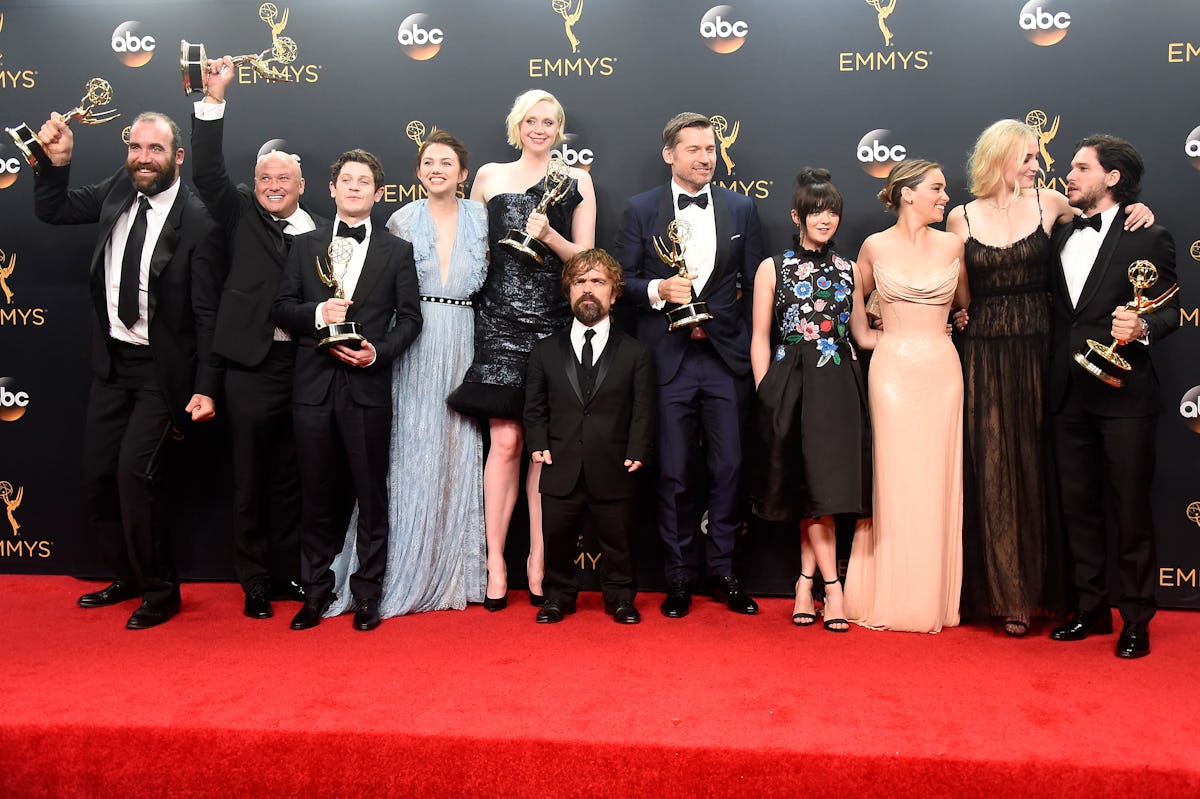 The 'Game Of Thrones' Cast Came To Slay Dragons On The Golden Globes Red Carpet
Frazer Harrison/Getty Images Entertainment/Getty Images
Game Of Thrones, by some sorcery, only has one nomination by which to win a Golden Globe — if they lived by Cersei Lannister's words they might soon be dead. Luckily, they are winning on the red carpet. Photos of the Game Of Thrones cast on the Golden Globes red carpet show that the actors slay more than just white walkers.
Game Of Thrones has only ever won one Golden Globe award (Peter Dinklage won back in 2012 for Best Supporting Actor — Series, Miniseries or Television Film). The show is only even nominated for one category this year, Best Television Series — Drama. While I bemoan the lack of recognition by the Golden Globes for one of the best shows of all time (IMHO), I will personally honor their red carpet fashion choices.
Being part of such a large ensemble cast means standing out in your own right, because everyone's a star, but not completely obliterating your coworkers. Imagine having Kit Harington as a coworker? I die. Well this year, the cast is starting off award-season on a strong note and killing the red carpet competition. Emilia Clarke looks positively regal, Lena Headey shows off her surprising softer side, and the Game Of Thrones men are looking d*mn fine, if I do say so myself.
Daenerys Targaryen (Emilia Clarke)
Khaleesi! I would so bend the knee for you, girl. Clarke wore a daringly low-cut column gown of which the Mother of Dragons would definitely approve.
Jon Snow (Kit Harrington)
You know nothing, Jon Snow, except how to dress for the red carpet. I'm a sucker for a guy in all black. The man looks positively dreamy and Harrington's fiancée Rose Leslie is one lucky lady.
Cersei Lannister (Lena Headey)
I want to hate Headey so badly, because Cersei is pure evil, but Headey is drop dead gorgeous (and a girl after my own heart with those tattoos). Her flutter sleeves and ruffled skirt give the wannabe ruler of the realm a softer look.
Jamie Lannister (Nikolaj Coster-Waldau)
Incest aside, Jamie Lannister is hot AF. Coster-Waldau is one sharp-looking lad in a tuxedo. Too bad tuxes aren't really from the Game Of Thrones time period. What time period does Game Of Thrones take place in, anyways?
Brienne Of Tarth (Gwendoline Christie)
Brienne of Tarth (and Gwendoline Christie) are badass b*tches. Christie knows how to slay a man and a red carpet. I bet she could even uphold her oath to protect the Stark girls in this gown.
Unsurprisingly, Twitter was here for the Game Of Thrones cast and their black fashion statements in support of the Time's Up movement.
"Nothing but RESPECT for my game of thrones family #GoldenGlobes." Where's the group photo though,? Or do they take their fictional houses so seriously?
"Say what you want but the game of thrones ladies look the hottest tn #GoldenGlobes."
"Game Of Thrones star Emilia Clarke has arrived on the #GoldenGlobes red carpet! 🔥" Use of the fire emoji has never been more perfect.
"I'm literally blind the Game of Thrones cast is so beautiful #GoldenGlobes2018."
"Game of Thrones cast snatching wigs like usual #GoldenGlobes."
"Game of thrones women are all killing it, we love the winning team #goldenglobes."
"Ladies of Game of Thrones are a vision in black."
"The @GameOfThrones cast is coming to conquer the #GoldenGlobes throne 👑 🙌."
"THE GAME OF THRONES CAST IS LOOKING GREAT AS ALWAYS #GoldenGlobes."
"So happy to see the @GameOfThrones cast back on the red carpet, but pretty bummed that Kit Harrington isn't wearing this. #GoldenGlobes."
Harrington in a Khaleesi wig really would have been the cherry on top of the cake, but I'll take this fire red carpet procession any day.