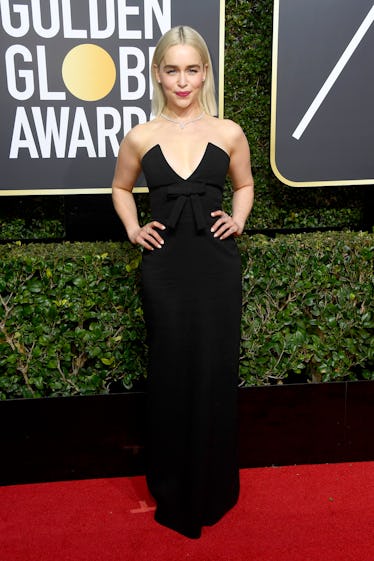 The 'Game Of Thrones' Cast Came To The Golden Globes To Slay & The Photos Prove It
Frazer Harrison/Getty Images Entertainment/Getty Images
These final years of Game of Thrones are shaping up to be difficult in more ways than one. Of course, there's the long wait for 2019 and the final six episodes. But there are other scheduling difficulties. The change from filming running from August to December means that instead of the cast being able to focus on awards season, they're taking breaks to fly to the US and back again. Any yet, these are the last chances they'll have to attend awards shows for the production. So some of the Game Of Thrones cast were at the 2018 Golden Globes, gamely taking a break from working on the final episodes of the series to make the trek to LA.
There's also that these Golden Globes were the first chance for Game of Thrones Season 7 to get nominated. Due to the Emmys June-June awards calendar, the cast was completely left off this past September, making their appearance there merely a chance for the up and comers to work their red carpet game.
At least for this event the show is actually nominated for something, though we'll admit it's not much. Despite the Globes initial enthusiasm for the series in Season 1, since then, there have been years where the show wasn't nominated at all. The last couple have been merely perfunctory single nominations in the Best Drama category, and this year is no exception. Chances of the show taking home anything tonight is slim.
That being said, there are quite a few cast members who were are hoping to see on the red carpet. Not Lena Headey of course, she avoids these things whenever possible, even when she was nominated last year.
Two actors we were guaranteed to see this evening: Emilia Clarke and Kit Harington, who were given the consolation "presentation" slots after being rounding snubbed for their first ever shots at the Lead Actor/Lead Actress categories.
Emilia Clarke's red carpet game has been uneven at best. Last year she really managed to hit it out of the park. But if we're being honest, it's Nathalie Emmanuel from Team Targ that has the better and more reliable fashion game. Still, this is Clarke's chance to glad-hand her way into a role now that Game of Thrones will end filming this coming summer. She arrived early and spent the entire week pre-gaming with an eye on managing to land her next role, and this time, hopefully one that doesn't change directors midstream.
Kit Harington is not only looking to move his career to the next level when the series ends, but is already wading into the production side of things, and will want to be gladhanding as many of Hollywood's Foreign press as he can in that endeavor.
Gwendoline Christie, of course, is one of the biggest fashionistas of the cast. (She's in a long-term relationship with Giles Deacon as her partner, and Vivian Westwood as her go to for the red carpet.) She did not fail to disappoint.
At least one of the other men from the cast also turn uped for the cameras. Nikolaj Coster-Waldau, who plays Jaime Lannister, makes it a point to show up for these every year, nominated or not. He always look smashing in tuxes.
Fans were hoping to see Maisie Williams and Sophie Turner, both of whom have turned into budding fashionistas after growing up in front of the camera, and who are moving into the X-Men game come 2018. But so far, they haven't shown. Same with Alfie Allen, who is already starting to branch out into other projects. His on screen sister Gemma Whelan, who plays Yara might also turn up tonight, though she may decide to hang out with her actually-has-a-chance-of-winning The Crown co-stars instead.