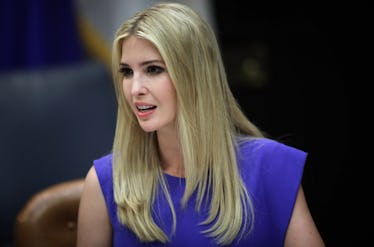 These Twitter Clapbacks To Ivanka Trump Will Have You In Stitches
Win McNamee/Getty Images News/Getty Images
I never thought that Twitter required a specific skill set, but the more tweets that come out of the White House, the more I realize how untrue that is (also how amazingly great I am at tweeting). Ivanka Trump isn't the best when it comes to tweeting things properly (or at opportune times), and luckily for us there are skilled tweeters out there ready to put the first daughter in her place. Here are the the funniest times Twitter clapped back at Ivanka Trump.
Trump, not unlike her father, doesn't have the best reputation when it comes to Twitter. While she's usually not yelling at anyone or calling people names, she's not the best at common sense tweeting or proper timing — which sometimes causes the first daughter to tweet insensitive things. Because of her subpar Twitter etiquette, Trump's been the subject of many clapbacks at the hand of brilliant and nimble-thumbed tweeters out there, who are quick to show the first daughter what's what.
There have been so many responses to Trump's tweets, that it was hard to narrow it down. But, after much consideration I found the clapbacks that really just rose to the top. So, allow me to navigate you through some of my favorites.