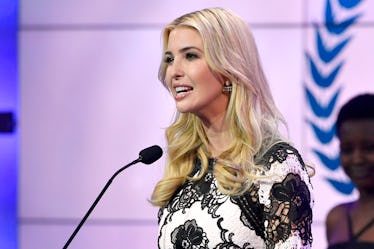 Ivanka Trump's Most Oblivious Tweets Are A Trainwreck I Can't Look Away From
Larry French/Getty Images Sport/Getty Images
Never has Twitter been as much of a topic of conversation during a presidency as it has been as soon as the Trumps rolled into the White House. Ivanka Trump may not be as loose with Twitter as her father, but she still has her own gaps. These are Ivanka Trump's most oblivious tweets. Oh, Ivanka Ivanka, what are we going to do with you?
Honestly, someone should really put a filter on the Trump family's Twitter accounts, or at least make them take a class titled White House Standards & Practices: Twitter Edition. It just seems that Trump never learns her lesson about what to tweet and when. Not only does she have horrible timing, but her tweets make it seem as though she is completely unaware of what's going on in her father's White House. Isn't there someone who gives her a morning rundown? She at least gets the news to her inbox, right? Think about it, if your best friend was going through a terrible breakup, you wouldn't post a picture of you and bae sharing a bowl of spaghetti Lady and the Tramp style, would you? (You're a terrible friend if you would, btw). So you'd think that the first daughter would know better, but no such luck.
What follows is a list of Trump's most oblivious tweets — try not to bang your head against the desk in frustration.
Ready? Here we go.