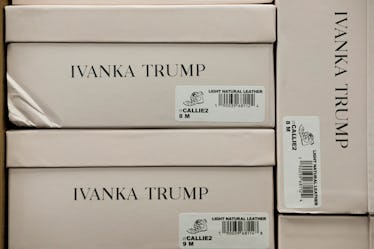 Ivanka Trump Settles Lawsuit Over Her Brand's Coat Design Copy Allegations
Drew Angerer/Getty Images News/Getty Images
A California-based fabric company and Ivanka Trump's brand settled a lawsuit over a coat design, as reported by the Daily Mail. Unicolors accused her brand of taking one of their custom graphic designs and slightly altering it for her clothing collection sold at TJ Maxx. While the details of the settlement were not disclosed, the Daily Mail obtained documents noting that Unicolors claimed ownership rights to the "unique two-dimensional graphic design" Trump allegedly used for the brand's coats. Unicolors also said that when they agree to give a client their design to use, the understanding is that it would be used as is, no changes, The Daily Mail reports.
Trump's brand was not the only one that was sued, however. Unicolors also sued the Trump brand's manufacturer, Gill Leather Fashions, as well as TJX, an umbrella retailer that sold the coat and owns TJ Maxx, according to the Daily Mail. It is, however, worth noting that Unicolors has filed more than 200 cases in the Central District of California, according to the Hollywood Reporter, and 40 of those cases have been about this specific design in question. Therefore, Trump's legal representation described this company filing the suit against the brand as "characteristic" of them.
The Daily Mail also reported that Unicolor accused Trump's brand of copyright infringement, causing the fabric company to lose a significant amount of business because retailers preferred having the 'Trump name" attached to their clothes. Unicolor asked for an injunction, an order that would stop the selling of Trump's coat, and are suing the brand for all the profits made from this specific coat.
While one lawsuit is settled and out of the way, the fashion designer faces another upcoming lawsuit in March 2018 with clothing company Aquazzura. Last June, the high-end Italian footwear company filed a lawsuit against Trump's brand for allegedly stealing a shoe design. The fashion companies will meet in court in March 2018, though Trump herself will not be present, after announcing in January 2017 that she will no longer be apart of the "management or operations of either company," referring to the Trump Organization as well. The shoe in question is Aquazzura's "Wild Thing" red pump with a fringe design, a $785 suede shoe that has been worn by many celebrities including Kendall Jenner, and rose to popularity in 2015. The shoe that Italian designer Edgardo Osorio believes was copied is sold for $65 by Ivanka Trump and called the "Hettie stiletto."
In March 2016, Aquazzura's designer called out Ivanka Trump's brand on Instagram over the shoe. The post read,
One of the most disturbing things in the fashion industry is when someone blatantly steals your copyright designs and doesn't care. You should know better. Shame on you @ivankatrump! Imitation is NOT the most sincere form of flattery.
Ivanka Trump isn't the only brand to allegedly rip off Aquazzura's trendy shoe. Other brands such as Mollini, Missguided, and Jessica Buurman reportedly created a similar shoe, accordung to Yahoo News. While Aquazzura didn't file claims against some of the smaller brands, the company filed multiple lawsuits against bigger-name brands like Steve Madden and Marc Fisher, along with Ivanka Trump.
The lawsuit only came after Trump's brand refused to comply with Aquazzura "cease-and-desist letter," asking the company to stop selling the shoe, remove photos from the brand's website and social media, destroy the existing shoes, and to give all profits over to the rightful creators of the shoe, Aquazzura, according to Yahoo News. When Trump refused to comply with these requests after one week, the Italian company decided to sue.
Back in June, when the lawsuit was filed, the CFO of Ivanka's licensing company, Matthew Burris, released a statement saying,
This is a baseless lawsuit aimed at generating publicity. The shoe in question is representative of a trending fashion style, is not subject to intellectual property law protection and there are similar styles made by several major brands.
We'll see how that one goes.