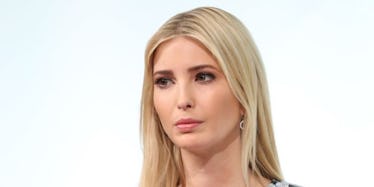 Ivanka Trump To Testify Over "Virtually Identical" Shoe Design Allegation
Sean Gallup/Getty Images
On the heels of a seemingly awkward encounter with Marco Rubio and a push for new job-training programs, White House aide Ivanka Trump will have to testify in a dispute with an Italian shoemaker, according to the Associated Press.
Aquazzura Italia SRL issued a trademark infringement lawsuit against Donald Trump's daughter and her company, IT Collection LLC, last year. The Italian brand claims Ivanka's Hettie shoe is "virtually identical" to its Wild Thing shoe.
According to AP and ABC News, U.S. District Judge Katherine Forrest rejected a request from Ivanka's lawyers that she be blocked from submitting to a deposition. It is set to take place in October on a "mutually acceptable schedule." Given her role in her father's administration, Ivanka's deposition will not last more than two hours and will take place in Washington if need be, the sources state.
ABC News reports that Ivanka filed a declaration in court last week that claims she is the former president of IT Collection LLC after taking on a role in the White House. Responsibilities now fall under the company's licensee, Marc Fisher, who was also sued.
Sources claim that Ivanka reportedly said, "My involvement was strictly limited to the final sign-off of each season's line after it was first reviewed and approved by the company's design team."
Aquazzura Italia believes that Ivanka's shoe is similar in style and design to its Wild Thing heel.
This isn't the first time Ivanka has come under fire from the Italian shoemaker, who also claimed her company once stopped selling a shoe after it complained about similarities.
Shoe dispute aside, this weekend all eyes are on Ivanka and her father as Americans wait for them to acknowledge Pride Month; the New York City march will take place on Sunday, June 25.
As far as Ivanka's clash with Aquazzura Italia, the lawsuit seeks unspecified damages, according to AP.