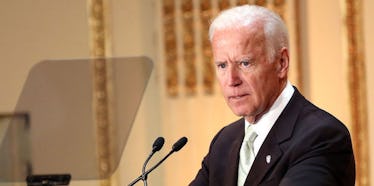 Joe Biden Calls Out Trump For Not Standing By The LGBTQ+ Community
Monica Schipper/Getty Images
At a private LGBTQ+ gala on Wednesday, former Vice President Joe Biden called out President Donald Trump for failing to live up to his campaign promise to stand by the LGBTQ+ community.
Biden encouraged the community to hold Trump "accountable for his pledge to be your friend," according to The Hill.
He added, "Just because you don't have Barack and me in the White House doesn't mean it's time to give up, keep quiet, stay on the sidelines."
During his presidential campaign, Trump told the LGBTQ+ community it would have a friend in the White House.
At the Republican National Convention in July 2016, Trump said,
Only weeks ago, in Orlando, Florida, 49 wonderful Americans were savagely murdered by an Islamic terrorist. This time, the terrorist targeted our LGBT community. As your President, I will do everything in my power to protect our LGBT citizens from the violence and oppression of a hateful foreign ideology. To protect us from terrorism, we need to focus on three things.
Trump essentially used the Orlando massacre as an opportunity to spread Islamophobia, while claiming he'd be supportive of the LGBTQ+ community if elected.
There's a strong case to be made Trump has not lived up to this pledge whatsoever.
Since entering office, Trump has moved backward when it comes to supporting the LGBTQ+ community.
Many were doubtful of Trump's campaign promise to be a friend to the LGBTQ+ community, especially given he'd chosen Mike Pence, who has a long record of taking homophobic stances, as his running mate.
But, upon entering office, Trump announced he'd keep federal workplace protections for LGBTQ+ people put in place by former President Barack Obama.
This move surprised many people, given Trump has seemingly been determined to undo essentially anything Obama did during his tenure.
It was also seen as a potential sign Trump would indeed follow through with his pledge to support the LGBTQ+ community.
Not long after, however, he rolled back federal protections for transgender students to use public school restrooms that match their gender identity.
Trump also hasn't formally recognized June as Pride Month, even though he's officially designated it as National Homeownership, Ocean, African-American Music Appreciation, and Great Outdoors Month.
In short, Trump's approach to LBGQT+ issues thus far has either been to do nothing at all, or move in a regressive direction.