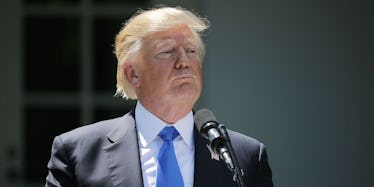 A List of Things Trump Has Tweeted About This Month Other Than Pride
Chip Somodevilla/Getty Images
What isn't said is just as important as what is.
For instance, when President Donald Trump observed an eerily quiet day on Thursday during the testimony of former FBI Director James Comey, the Twitterverse had a small meltdown.
So it is noteworthy that although Trump tweeted on Monday to honor the Pulse shooting victims, he has failed to make any mention of Pride or LGBTQ+ rights.
When the attack at the Pulse nightclub in Orlando happened last year, Trump also tweeted about the tragedy. But he did so in a way that incited backlash for what many saw as using the tragedy to push an agenda about countering extremism:
Trump's daughter Ivanka, meanwhile, has been experiencing backlash for her tweets expressing support for Pride this year, which didn't go over well:
Certainly any attempt at support isn't exactly bolstered by the pattern of policy in her father's presidency thus far.
To say that the administration has a worrying track record on LGBTQ+ rights is an understatement, not to mention the fact that 2016 was a particularly deadly year for hate crimes in the LGBTQ+ community, according to a report from the National Coalition for Anti-Violence Programs.
And while Trump has failed to say anything publicly on LGBTQ+ rights or Pride Month so far this June, he's had plenty of time to tweet about other things.
Here's what Trump has said on Twitter in the 12 days since Pride month officially began:
1. Obamacare:
2. Comey:
3. A speech he gave at the conservative Faith & Freedom Coalition:
4. The Middle East:
5. D-Day:
6. Fox & Friends:
...and again:
...and again:
...and again:
7. Air-traffic control initiative:
8. Veterans:
9. Economic situation:
10. Infrastructure Week:
11. Guns:
12. The Travel Ban:
13. His continued campaigning:
14. And in a strange meta-tweet, Trump even tweeted about how much he tweets:
Here's what Trump has tweeted on Pride and LGBTQ+ rights since the start of June:
And just to be thorough, here are the official lists of speeches and statements put out by the White House in that same time frame.
While both Trump and Mike Pence made speeches at the Faith & Freedom Coalition conference this past weekend, the White House has been oddly silent on the decades-long history of Pride month.