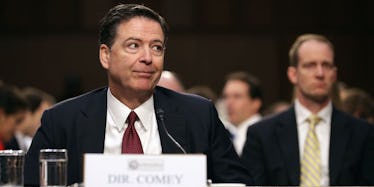 Trump's Lawyer Wants To Punish Comey For Memo Leak, But It's A Weak Case
Chip Somodevilla/Getty Images
Following a nail biter two-and-a-half-hour Senate Intelligence Committee hearing of the ex-FBI director James Comey Thursday in Washington D.C., President Donald Trump's outside lawyer broke the silence.
While the president himself was observing an unusual Twitter hiatus, his attorney made a statement minutes after the testimony concluded its open session.
"Today, Mr. Comey admitted that he unilaterally and surreptitiously made unauthorized disclosures to the press of privileged communications with the President," Marc Kasowitz, Trump's personal lawyer, said, according to the Washington Post.
CNN reports that Kasowitz intends to file a leak complaint with the Department of Justice regarding Comey's disclosure of a memo, which described an alleged strange meeting between Comey and Trump, to a friend.
President Trump took to Twitter early Friday morning to defend himself, retweeting Harvard Law Professor Alan Dershowitz about Comey's testimony:
Harvard Law Professor Laurence H. Tribe was quick to shoot back:
Here's how a possible leak complaint could be problematic legally.
The meeting the memo reportedly detailed wasn't classified.
Leading up to the hearing, there was a question of whether Trump would invoke executive privilege, which allows presidents to essentially block parts of investigations. On Monday, the White House announced that Trump would not pull that executive privilege lever.
But even if he had, Trump has publicly acknowledged the conversation in question, making it nearly impossible to claim that any confidentiality was broken. Vox asked 10 experts for their opinion on whether Kasowitz' claim that executive privilege was broken had any legs; all of them said no.
Though Kasowitz used the term "privileged communications" in his Thursday statement, communications with the president aren't privileged by default, according to whistleblowing expert Stephen Kohn, who was quoted in the Post.
"What the president does isn't confidential or classified," the Post quoted Kohn as saying.
The memo itself was unclassified. 
The New York Times, who first reported the document in May, did not view the document but had part of it read to them. According to Comey's testimony, the document was not classified:
"So my thinking was, if I write it in such a way that I don't include anything that would trigger a classification, that'll make it easier for us to discuss, within the FBI and the government, and to — to hold on to it in a way that makes it accessible to us," Comey said.
According to the Post, Comey gave the memo to a friend of his said to be Columbia Law Professor Daniel Richman.
Comey shared the memo after being fired. 
While the Times reported the contents of the shared memo on May 16, Comey was fired the week before, meaning he was a private citizen sharing information with another private citizen at the time.
Generally speaking, the First Amendment allows a citizen to share information with another when that information is not sensitive or a threat to national security.
In other words, Kasowitz' statement could be interpreted as denying the right of free speech (which is, for obvious reasons, regrettable).
... And Comey reportedly shared this memo to bring the conversation to light.
In Thursday's testimony, Senator Mark Warner, Democrat of Virginia, commented on the memo, saying:
If you affirmatively made the decision to write a memo that was unclassified, was that because you felt, at some point, the facts of that meeting would have to come clean and come clear and actually be able to be cleared in a way that could be shared with the American people?
Comey responded:
Well, I remember thinking, this is a very disturbing development, really important to our work. I need to document it and preserve it...
When asked what prompted him to write the memo in the first place, Comey doubled down on his reasoning, saying:
A combination of things, I think — the circumstances, the subject matter and the person I was interacting with ... And then the nature of the person: I was honestly concerned that he might lie about the nature of our meeting, and so I thought it really important to document.
While Trump and his lawyer have gone on the offensive to allegedly file the complaint against Comey, they might have their own backs to watch. Aside from the host of jaw-dropping revelations Thursday's testimony revealed, there is now the (extremely relevant) question of what happens if Trump is impeached.