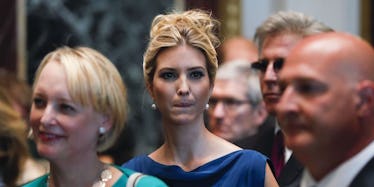 Ivanka Trump Met Marco Rubio And The Pics Are, Just, So Awkward — PHOTO
SHAWN THEW/EPA/REX/Shutterstock
Ivanka Trump met with Senator Marco Rubio in Washington D.C. on Tuesday, June 20.
They were meeting to discuss a plan for paid family leave. They both have ideas about how to do that and want to figure out if there's a way to turn their separate plans into one mega-plan.
Which is pretty cool and noble, all things considered.
Except that then the internet had to go ahead and be the internet and focus on something ridiculous instead.
Namely, the internet was distracted by a photo of Rubio and Trump meeting that emerged. The photo was... I mean... just look at it yourself:
The photo was posted by Erica Werner, a congressional reporter for the Associated Press. Her tweet very quickly made the rounds as people took a look and said, "huh."
UPDATE: Rubio has taken to Twitter to dispute that this was an awkward moment. In doing so, he kind of made it more awkward.
EARLIER: There's a lot to digest in this image.
It appears as if Rubio is going in for a hug, but Trump was definitely not prepared for it. We don't know how it actually played out in action, but a picture is worth a thousand words.
Twitter went wild over the picture of Rubio and Trump.
There are plenty of reasons why a meeting between Trump and Rubio might be awkward.
There was that time Trump's dad labeled Rubio "Lil Marco."
There was that time Rubio called Trump's dad "the most vulgar person ever to aspire to the presidency."
And, oh yeah, there was that time Rubio and Trump's dad spoke about the size of their, er, hands on a national stage. 2016. A banner year for politics.
So maybe just a few points of discomfort within that relationship.
But in all seriousness, the duo was meeting to discuss paid family leave.
This has been an issue Trump has championed since her RNC speech last summer.
The Trump plan says new parents get six weeks of paid leave, according to Politico. To cover the cost, states would have to use their unemployment insurance programs and change up tax structures.
Trump wants a deduction for child care costs -- which some believe helps rich people the most.
Rubio's plan, on the other hand, is that companies will get a 25 percent tax credit if they offer four to 12 weeks of leave. He also has a bill proposing an updated child tax credit, allowing families to claim $2,500 per child, and to still receive a tax refund if the credit is larger than their tax bill.
We'll see if the pair comes up with a new plan that would help families.